Covid concerns leave older people facing lonely Christmas
Friends of the Elderly postpone traditional Christmas lunches due to worsening pandemic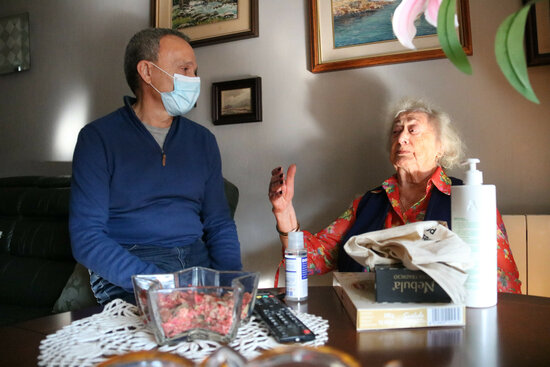 The Friends of the Elderly Foundation has warned that many older people are facing an especially lonely Christmas this year, with social events being called off due to the worsening pandemic situation in Catalonia.
The organization has postponed the remainder of its traditional Christmas lunches, 16 out of 24, pushing them back until spring in order to "ensure the safety" of attendees, director Albert Quile told the Catalan News Agency (ACN).
"Prudence is important," he said, while also explaining that Christmas "is not canceled" and the foundation would still be going ahead with small-group outings to see the Christmas lights and visit nativity scenes.
The group's 2,000-strong team of volunteers will also be busy over the holiday period delivering hampers and checking in on the 2,000 older people they offer support to – both in person and over the phone.
"Christmas lives on. We'll bring the gift of Christmas to the homes and care homes of every elderly person that we support," Quile said.
Nevertheless, the foundation's director said that for many older people, this Christmas would be similar to the situation faced by everyone during the strict lockdown at the beginning of the pandemic.
"Older people who suffer from loneliness are already socially confined and ignored. We have not worked hard enough to be an inclusive society," he said.
"Living life to the fullest"
Leonor Falcó, 86, is one of the people who takes part in Friends of the Elderly Foundation events all year round. She lives by herself in an apartment in Barcelona since her husband died some time ago and was won over by the group's volunteers from day one.
"It wasn't about tears or sadness or problems. Of course I wasn't interested in any of that, and that's why I liked it from the beginning," she says.
Leonor stresses the importance of asking for help when it is needed. "I like people and I need them," she says. Older people also have to be able to "live life to the fullest."