Catalonia's gender pay gap among lowest paid grew to 34% in 2017
Government report shows that while wage difference fell for third year in a row, women still earn 23% less than men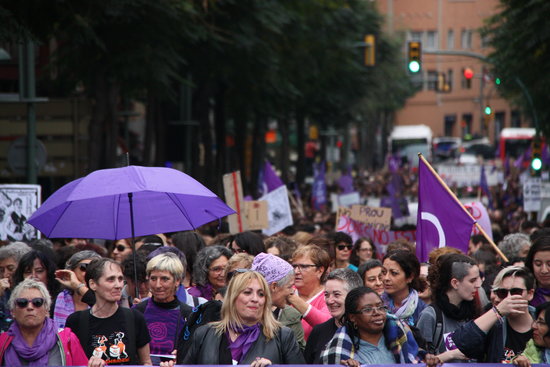 Women earned 23% less than men in 2017, a 0.4% smaller pay gap than the year before, according to a report by the Catalan government's labor and social affairs department.
Yet, even though the overall difference in pay went down for a third year in a row, wage discrimination among the lowest salaries continued to grow, to 34%, says the report.
Over all, the report found that half of women earned around 18,000 euros a year, while only 25% of men earned less than this amount.
The study paints a picture in which women suffer higher levels of unemployment, do more part-time and temporary work, and tend to work in the most poorly paid positions.
"The pay gap continues to be unacceptable," said labor minister Chakir el Homrani, "even if it has fallen in the past three years, it is at a rhythm that is neither adequate nor logical."
Big wage difference among top earners
While the gap is wide at the bottom of the scale, the same is true for the 10% best-paid employees, where women earn 38,000 euros or more, and men 48,000 euros or more.
The government's study also shows that the differences in pay between men and women become more pronounced over a working lifetime.
Since 2016, the wage gap has shrunk for all age groups, except for those in the 35 to 44 year-old age range, where the difference increased by 1.4%.
In general, women reach their maximum salary between the ages of 35 and 44, on an average of 23,129 euros a year, after which their wages begin to fall.
Men's salaries continue to rise until the age of 55, to a maximum average of 32,077 euros a year, with the difference attributed to women having children between these ages.
Gap between full-time and part-time work on par
Meanwhile, for the first time ever, the report shows that the pay gap is more or less the same for people doing full-time work (15%) as for those doing part-time work (14.7%).
However, for people on fixed contracts, the wage gap is much higher (24%) than for those on temporary contracts (9%).
To tackle the situation, the government has set up a register in which, from March 1, firms with over 150 employees will have to inscribe an equality plan and register the salaries and bonuses paid to out workers that will be accessible on the labor department's website.