Catalans return home after 'splendid' Easter week
Hotels and restaurants at full occupation in several areas thanks to sunny days and high temperatures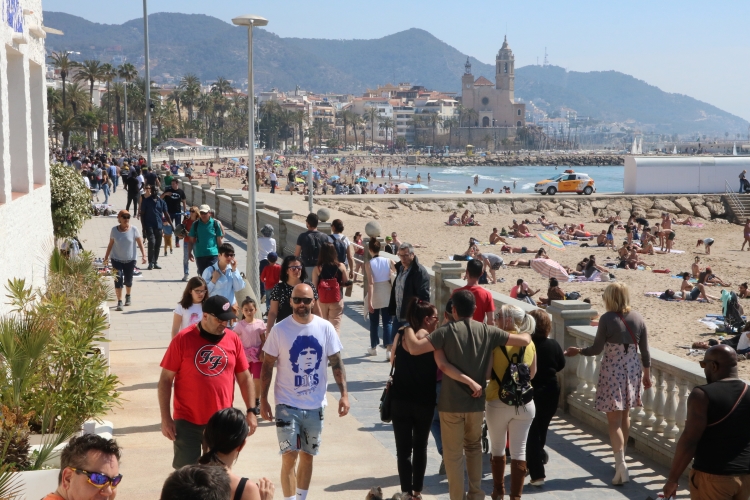 Almost 423,000 vehicles returned to Barcelona between Sunday afternoon and Monday afternoon after spending some days away coinciding with the Easter holiday. The Christian festivity has seen full occupancy at several hotels and restaurants across Catalonia.
Sun and almost a Summer-alike weather have encouraged residents and tourists to visit the territory during the holidays.
Live traffic map of Catalonia
Tarragona, south of the Catalan capital, has had almost 100% occupation in the vast majority of establishments.
"It is a splendid Easter week, as much as the ones from before [the pandemic] or even better," Francesc Pintado, president of Tarragona's hotels' association, said to the Catalan News Agency (ACN).
"Weather accompanies us and we are seeing streets full of people, with terraces and restaurants at full performance," he added on Easter Sunday.
"I do not have any available table until Tuesday, neither for lunch nor dinner," Llorenç Blasco, owner of Denver said to ACN, a restaurant in the seaside town of Cambrils.
A similar situation was experienced in the internationally renowned seaside town of Sitges. Despite expectations of 90% full occupation, the good weather has pushed restaurants and hotels to put up the 'complete' sign.
"There is no doubt it is an excellent summer prelude," Oskar Stöber, president of Sitges' hotels' association, said on Sunday to ACN.
Even in Sitges, beaches were full of people sunbathing or enjoying their time with friends and families, while some brave people decided to go for a swim.
"We have recovered our usual customers, people that come to enjoy some days of nature," Oriol Baños, president of the inland Berguedà county's rural tourism association, said to ACN. They are already looking forward to a "full normality" summer.
More to the north, in the Girona province, businesses are happy with the results after having an average of between 85% and 90% of occupations. However, in some points of the area, they have registered full occupancy.
"We can say that it has been a good Easter week and people that came did spread throughout Girona's territory," ATA Costa Brava-Pirineu de Girona association president Esther Torrent said to ACN.
Although the "good Easter week," hotels are more moderate and warn that hotels have occupied 80% of their overall offer and from Tuesday, "the vast majority of hotels will close once again," Antoni Escudero, president of Girona's counties hotels' association said to ACN.