Catalan police now have access to Europol information exchange system
Trade union EuroCOP urge for Mossos d'Esquadra to be able to launch cross-border investigations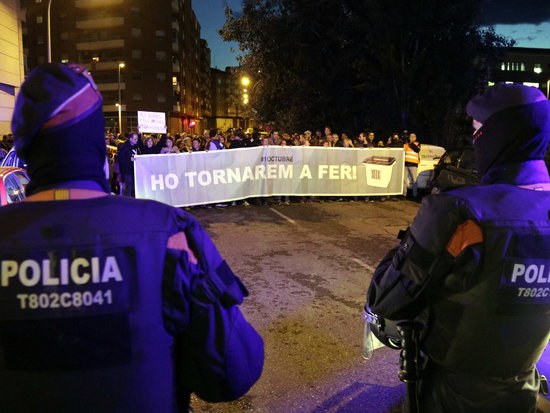 The Catalan police now have direct access to SIENA, Europol's information exchange system after several years requesting it.
Almost three years ago, the then interior minister, Miquel Buch, urged his Spanish counterpart, Fernando Grande-Marlaska, how the Mossos d'Esquadra could be granted access to the mechanism.
One year later, in November 2019, the European police trade union EuroCOP also requested it talking to the Catalan News Agency – now, the union's then-president and now member Àngels Bosch welcomes the news.
For her, from now on the Mossos will not have to request access to the shared database to the Spanish police, which will be especially key for investigations.
Yet, she urges for more progress to integrate the Catalan law enforcement in the European network.
Indeed, in an interview with the Catalan News Agency (ACN) published on Wednesday, she said that both the Mossos and Ertzaintza – the Basque police – should be able to launch cross-border investigations.
Article 40 of the Schengen Agreement establishes that officers of a country who, "as part of a criminal investigation, are keeping under surveillance in their country a person who is presumed to have participated in an extraditable criminal offense shall be authorized to continue their surveillance in the territory of another Contracting Party where the latter has authorized cross-border surveillance in response to a request for assistance made in advance."
Yet, so far the Catalan police have not been included in this article. "It makes no sense to leave some law enforcement bodies with full powers out of this legal framework, this is against the citizens' security," said Bosch.
The access to SIENA came only a few days before the Mossos published on Monday the guidelines on when foam bullets can be fired.
Foam bullets and water cannons
The protocol states that the weapons can be used at a range of between 5 and 50 meters, that officers must aim below the abdomen, and the bullets should be fired on the direct order of a superior and after protesters have received a warning.
There are, however, three exceptions, according to the protocol: shots may be fired without warning if there are disturbances to public safety involving weapons or other violent actions; shot may be fired without a direct order in cases of extreme need with very serious danger to people or property; foam bullets may be aimed at limbs if the target has a projectile, blunt object or knife.
In the interview with ACN, Bosch said that the most commonly used tool to fight against violence to the police in Europe is "modern and updated" water cannons.