Catalan immersion system: origins, how it works, why its future is uncertain
Catalan government expected to fight ruling imposing 25% Spanish quota in system established in 1983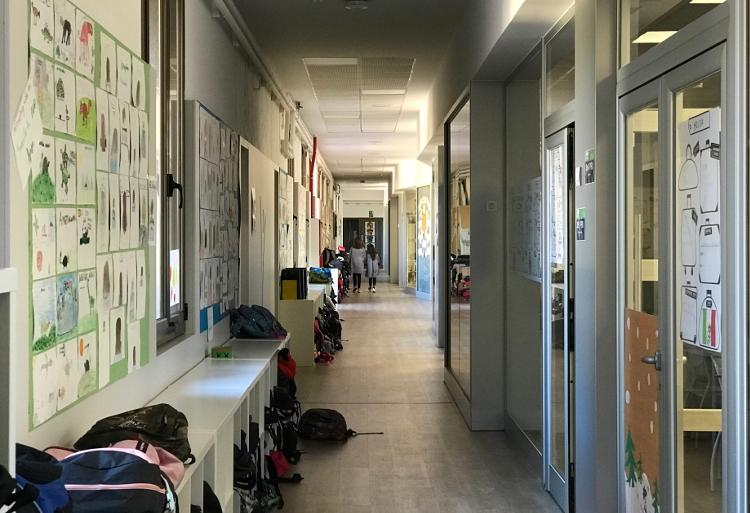 There are over 1.6 million students in Catalonia and since 1983, the vast majority of schools use Catalan as the working language with pupils. The territory has two main official languages, Spanish and Catalan, but there is a Catalan immersion system in place to strengthen the use of the language.
The goal of this education policy in public and semi-public schools is for students to be proficient in both languages. Most of Catalonia's students go to these kinds of schools; private ones, on the other hand, are exempt from implementing the immersion system.
"The immersion system places a community, students, in this case, in a language setting to achieve full bilingualism. And in Catalonia, there are two coexisting languages, Catalan and Spanish, but there is one that is clearly stronger in society," Anna Rosès, a Catalan language teacher at Barcelona's Escola Pia Sarrià, told Catalan News.
Some of the reasons why Spanish has a bigger presence are because of pop culture, cinema, television channels, court rulings, or other day-to-day activities, in which people tend to favor the language in certain settings.
Catalan speakers often switch to Spanish without hesitation when speaking with people who talk to them in Spanish, and some Catalan speakers even talk to other Catalan speakers in Spanish sometimes.
Listen to our Filling the Sink podcast to learn more about the immersion system.
Despite the bilingualism resulting from the immersion system, in recent years this policy has been threatened by several political parties.
Parties such as the conservative People's Party or Ciudadanos have criticized the system and challenged the method in court. On November 23, 2021, the Spanish Supreme Court ruled that 25% of school instruction must be done in Spanish.
Some Catalan families are in favor of this judicial decision.
"The immersion system is an illegal education plan in place in Catalonia," Ana Losada, spokesperson of Escuela de Todos or 'School for Everyone' and the head of the Assembly for Bilingual Schooling, told Catalan News.
Escuela de Todos is an association of entities created after the Supreme Court decision, calling for the government to enforce the ruling in classrooms across Catalonia.
"Legally, Spain's Constitution, the Spanish educational law, and rulings establish both Spanish and Catalan as the working languages in school and classes must be taught in both languages," Losada added.
Majority of population in favor of immersion
Criticism driven by political forces and members of the Escuela de Todos association is not commonly shared. According to a recent Catalan government-funded survey, CEO, 76% of Catalans agree with the immersion system.
This sizeable majority supporting the schooling method, however, is not enough for those against using Catalan as the main language in schools. One of the main reasons behind this might be recent political events in Catalonia, such as the independence movement, that have become a key factor behind politicizing schools and language.
The complaints "are purely ideologically driven," Albert Bayot, from the Catalan Graduate Teachers Association in Girona said to this media outlet.
"In our country, languages have sadly become an ideological weapon and this should not be the case. In education centers, this should be forbidden. All languages should be equally respected," he added.
So far, only 35 classrooms in Catalonia have had to enforce court rulings against the immersion system on individual grade levels, the Catalan education department announced in December 2021. Since 2005, the ministry has received 82 different rulings.
Ana Losada, head of the Assembly for Bilingual Schooling, said that her organization has been complaining about the immersion system since 2014. Until now, they have around 50 to 60 judicial complaints from individual families requesting that their child's class use Spanish as the working language rather than Catalan.
There have been several judicial proceedings against the immersion system: families started appealing the working language of specific subjects years ago before politicians against independence challenged the entire immersion system in court. The Supreme Court then made the controversial ruling imposing a 25% Spanish language quota in schools.
Escuela de Todos is now preparing a collective complaint with up to 500 families to urge the Catalan government to implement the ruling. The decision is not yet in force as the executive had several months to do so. The education ministry said that they would be sending inspectors to schools to ensure that the immersion system is fulfilled.
Right now, however, there is no specific outcome on how the Catalan public administration will implement the ruling.
When and why was immersion introduced?
The immersion system is in place to make sure Catalan students learn both Spanish and Catalan. One of the reasons behind applying the policy back in the 1990s is that the use of Spanish on a daily basis outside of school tends to be more widespread.
For over 40 years, the Franco dictatorship prohibited the use of the Catalan language, meaning that by the transition to democracy in the late 70s it was not spoken as frequently as Spanish. In 1983 a group of parents from the Escola Rosselló Pòrcel school in Santa Coloma de Gramenet, near Barcelona, urged the school to use Catalan as the working language.
Seven years later, in the 1989-1990 academic year, there were around 52,000 students from 700 schools in Catalonia in which the main language of instruction was Catalan. A couple of years later, before the 1992-93 academic year, the government made the immersion system mandatory for all public and semi-public schools in the territory.
When the immersion system was implemented, the goal of authorities was to avoid having two linguistic communities in Catalonia with people only fluent in one language rather than two, which is why they decided to use Catalan as the working language in the vast majority of schools.
Do Catalan students learn enough Spanish?
With over 40 years of Catalan as the working language in most schools, residents are generally literate in both languages.
"Catalan students are fully proficient in both the Catalan and Spanish languages," Anna Rosès, a teacher at Escola Pia Sarrià in Barcelona, told Catalan News. "We teachers always say we need greater literacy, but they are proficient in both languages," she added.
In fact, data published in 2021 by the Catalan education ministry shows that 16-year-old students get better marks on the Spanish language exam than the Catalan language one.
Each year in March, thousands of secondary school students are tested across Catalonia in several subjects, including the Catalan and Spanish languages or maths.
While in 2013 the average grade for the Catalan language exam was 76.6 out of 100, last year it was 76.5. Meanwhile, average grades on the Spanish language test were 76 out of 100 in 2013 and 78 in 2021.
"How hard is the Catalan language exam? And how hard is the Spanish language one?" Ana Losada asked. "If they were equally difficult you could draw conclusions, but this is not the case," she added.
Losada is not against students learning Catalan, she said, but argued that to properly learn Spanish, pupils need time to be taught adequately.
Catalan lagging behind on social use
Using the Catalan language in social settings is also part of the immersion system's goal. However, recent figures released by the Catalan education department reveal that only 47% of teachers always or almost always speak in Catalan to 4th-year secondary school students – that is significantly lower than 15 years ago when 63% did.
The survey, which polled 4th-year secondary school (ESO) pupils from around 50 schools towards the end of the 2020-2021 academic year, found that only 39% of students always or almost always speak to their teachers in Catalan, a 17-point drop compared to 2006.
During group activities, only 21% of pupils often use it, which means a sharp decrease compared to 2006, when 67% of them did.
The figures reflect the same trend as that of a Barcelona local council study published in August 2021, which stated that only 28.4% of 15- to 34-year-olds in the capital used mostly Catalan (62.1% for Spanish), down from 35.6% in 2015 (56.5% for Spanish).
After 40 years of this Catalan immersion system, the language is understood by 94.4% of the population. Some 81% can speak it, 85% can read it and 65% can write in it, with 64% saying they have a good command of all skills – all abilities are mastered by 97% of the population in Catalonia or more when it comes to Spanish, which suggests the system works in order to guarantee a high level of both tongues.
Another recent study, by the Plataforma per la Llengua, a lobby that defends the use of the language, states that around 4.5 million people usually speak Catalan, half a million less than in 2005.
"The Catalan language is learned from an academic perspective, but we see that we are not reaching hoped-for results in terms of the social use of the language. We have a problem with the social use of Catalan," Albert Bayot told Catalan News.
However, Anna Rosés sees a lot of the time, "especially among children where one speaks in Catalan while the other speaks in Spanish, that they communicate easily despite the different languages."
The vast majority of Catalan residents are in favor of the immersion system, but experts recognize that there is room for improvement, while its detractors claim students have the right to study in their mother tongue.