Three quarters of residents in favor of Catalan language immersion in schools, says survey
Study estimates that half of Spanish-speakers also approve current model, amid judicial efforts to impose Spanish in classrooms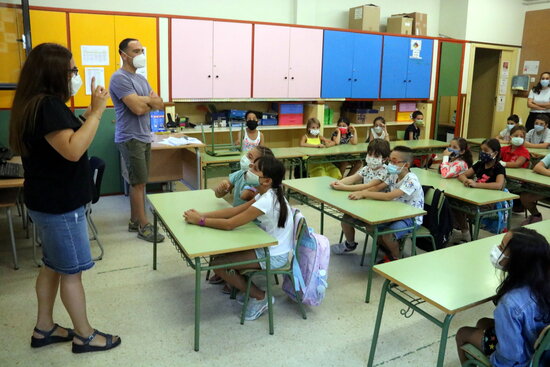 Over three quarters of residents in Catalonia are in favor of the Catalan language immersion system in schools, according to a survey revealed on Wednesday by the Catalan government-funded agency, the Center for Opinion Studies (CEO).
The study also estimates that half of Spanish-speakers also approve the current model, a figure that jumps to 95% amongst to Catalan-speakers.
As for parties, CEO says that over 90% of those supporting pro-independence parties are in favor of the Catalan immersion, with a similar percentage for anti-austerity En Comú Podem voters.
This figure decreases to two thirds for Socialist voters, with most right-wing unionists against the current model. Around 71% of People's Party supporters would like it to come to an end, fewer than those backing Ciudadanos (77%) or Vox (92%).
The report has been published amid judicial efforts to impose a quota of 25% of Spanish language in classrooms.
In November 2021, Spain's Supreme Court ruled that all 25% of teaching in Catalonia has to be in Spanish, something that the Catalan education department has to apply by late March.
For the past 40 years, Catalan has been the main language used in classrooms in order to protect it as a minority language in Spain. This has become a contentious issue in recent years, with right-wing parties and groups such as Ciudadanos or the People's Party lobbying in favor of a higher presence of Spanish in obligatory education.
Declining use of Catalan in schools
Recent figures released by the Catalan education department reveal that 47% of teachers always or almost always speak in Catalan to 4th-year secondary school students – that is significantly lower than 15 years ago, when 63% did.
This is especially remarkable as Catalan is the working language at schools in order to protect it and avoid splitting society into two separate linguistic communities.
When Catalonia recovered its self-rule in the late 1970s after 40 years of a fascist dictatorship, its new authorities decided that classes in Catalan, rather than a choice between Catalan and Spanish, would ensure that students end their studies speaking both languages – considering that the latter is learned in society because it is the most widely used one and is studied as a foreign language at school.
Catalan News podcast
Have a listen to our Filling the Sink podcast on the Catalan language, published on November 27, 2021.