Central Catalonia water authority warns of supply cuts if no rain before May
Government to invest additional €25M to create more drinking water in Besós river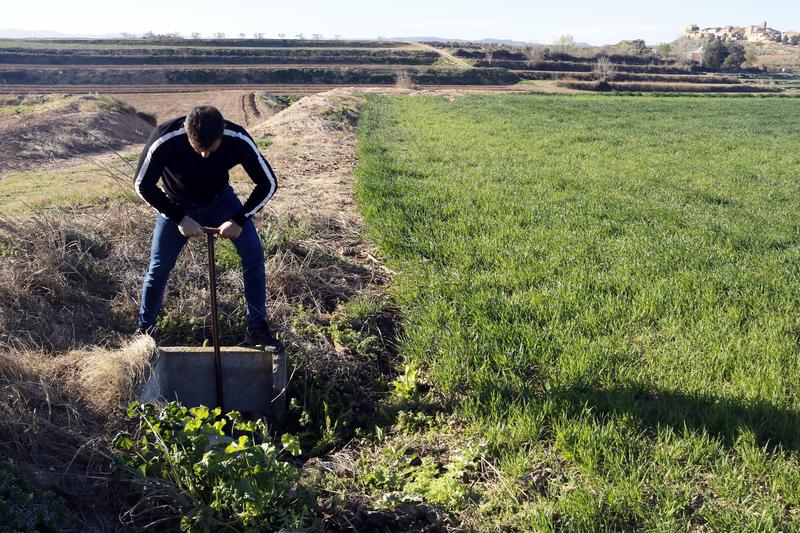 The 'Comunitat General de Regants dels Canals d'Urgell' water authority in central Catalonia has warned on Wednesday that if it does not rain, the water supply in the area could be cut by the end of May.
The regulator will also ask the Catalan government to declare the zone a catastrophic area because of the drought that officials called "exceptional and persistent."
Water supplies are at 42 cubic hectometers in the Oliana-Rialb water reservoirs, marking the lowest levels in the last 70 years, as the maximum capacity between both reservoirs is of up to 500 cubic hectometers.
The Urgell water canal is the largest irrigation system in Catalonia, as it reaches around 70,000 hectares of land across the counties of Pla d'Urgell, Noguera, Urgell, Garrigues, and Segrià.
It also brings water to 77,000 inhabitants, and various enterprises and farms in the area.
More investment in Besós river
The Catalan government has announced a plan to invest an additional €25 million to expand the system of creating drinking water in the Besós river water, with the aim of producing four times as much water for human consumption.
Right now, the plant produces 200 liters of drinking water per second, and after the first expansion, expected to be completed by the end of June, the plant will be able to produce 400 liters per second.
With the new project announced by president Pere Aragonès during a visit, the plant will be able to produce up to 860 liters of water per second before 2024.
Not enough water in reservoirs for firefighters
Meanwhile, firefighters have already confirmed that the planes used to extinguish blazes cannot be refilled at the Sau reservoir because of the low water levels.
This reservoir has also seen a fish cull to avoid water contamination. So far, authorities have culled 2.6 tonnes of fish in the site not far from the central Catalonia city of Vic.
The government had already announced they would be emptying the reservoir to keep water quality.
Reservoirs at 26% capacity
After weeks without significant rainfall, reservoirs in Catalonia are at 26% of their capacity as of April 12, 2023, according to the Catalan Water Agency.
Learn more about the issue by listening to the Filling the Sink podcast episode on the ongoing drought from September 2022.
High risk of fire
The Catalan government issued a warning for high risk of fire on Wednesday which will be in place until at least April 17 due to the forecast of wind and high temperatures.
Rural officers activated level two of the 'pla Alfa' fire risk, the second-highest level of risk, across 24 counties because of the low humidity and drought.
During these days, agents will increase vigilance against fires and call on residents to exercise "extreme caution" whenever they are outdoors.