Between 1,500 and 5,000 demonstrate against 2030 Winter Olympics bid in Pyrenees
Local residents will decide fate of project in July 24 vote but neighboring Aragon's rejection over venues adds uncertainty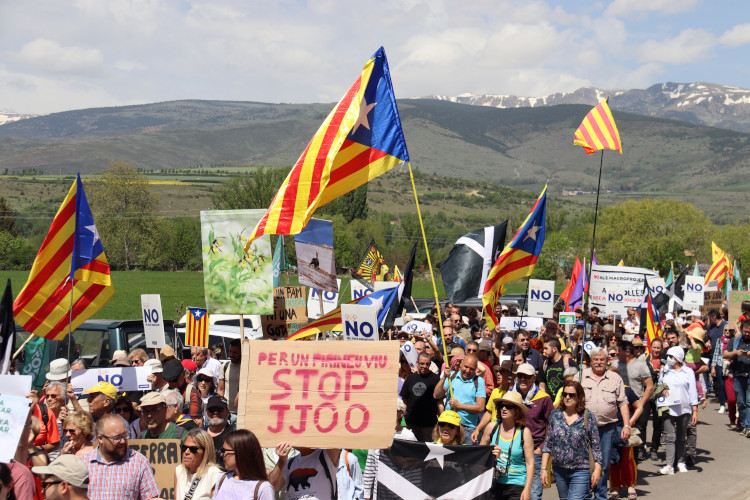 Puigcerdà, one of the main cities in central Catalan Pyrenees, hosted a demonstration against the 2030 Winter Olympics bid on Sunday around noon.
Around 1,500 people attended the rally, according to the Catalan police – a figure raised to 5,000 by organizers.
The event was called by Stop Olympics Platform (Plataforma Stop JJOO, in Catalan), and left-wing parties CUP and En Comú Podem adhered to it, as well as pro-independence grassroots organization ANC.
The march began in an industrial estate of the city, which borders Northern Catalonia, the Catalan-speaking region administratively in southern France.
Rally-goers led by five tractors then walked towards Puigcerdà's city center in order to put an end to a "historic" demonstration, according to organizers.
On July 24, those who live in the six counties of Alt Pirineu and Aran area of the Western Catalan Pyrenees will vote on whether to host the Games in a binding referendum, while the neighboring Berguedà, Solsonès, and Ripollès counties will vote on becoming "involved" in other ways such as by hosting training sessions.
According to a recent government-funded survey, 74.2% of people who live in the region are in favor of the games that authorities have described as a "historic opportunity," but whether or not a bid will move forward is still up in the air.
Meanwhile, La Vanguardia newspaper reported on Monday that over two in three Catalans are in favor of hosting the Olympics, while just under one in four are "very much or somewhat against" the idea. The same Ipsos poll found stark differences among party lines: 70% of far-left CUP voters and 46% of anti-austerity Comuns voters reject the bid, while over 60% of Socialist, 75% of ERC, and 51% of Junts supporters are in favor of it.
May 20 deadline for a Catalonia – Aragon agreement for a joint bid
Not only does the vote have to take place, but also Catalonia and its neighboring region Aragon have to agree on a joint bid by May 20 to move forward.
The technical teams of both territories agreed on where competitions should be held, but at a later stage, Aragon's government U-turned and said the proposal was not "fair."
As the deadline looms and no progress is apparently being made, the Catalan government has announced it is set to ask the Spanish Olympics Committee (COE) to greenlight a potential solo bid to host the 2030 Winter Games in the Pyrenees in the event an agreement is not reached with Aragon.
Have a listen to our Filling the Sink podcast on the debate over the Olympics that Catalan News published on February 5.