Belgium upholds ruling refusing to extradite former Catalan minister to Spain
Brussels' Court of Appeals rejects misuse of public funds accusations against Lluís Puig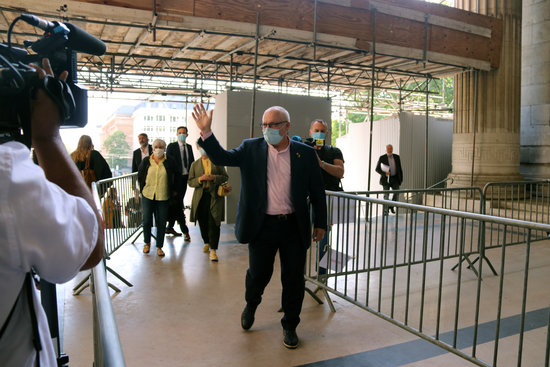 The Brussels Court of Appeals has upheld a ruling rejecting Spain's extradition request for former Catalan minister Lluís Puig, wanted for alleged misuse of public funds during the 2017 independence bid.
"There's no extradition," tweeted the Catalan leader on Thursday. Puig fled to Belgium three years ago to escape Spain's crackdown on the organizers of an independence referendum deemed illegal.
Prosecutors may still present a last legal challenge, but so far all of Spain's efforts to bring back exiled pro-independence leaders have been rebuked by other European countries.
A Belgian court rejected Spain's third European Arrest Warrant for Puig last August, but Spain's Supreme Court urged the Belgian public prosecutor to continue fighting for his extradition in the Court of Appeals.
According to Puig's lawyers, Belgian judges believed the Supreme Court did not have the authority to try him and raised concerns that Puig's presumption of innocence was at risk in Spain.
In Belgium, Puig has continued to be politically active alongside former president Carles Puigdemont and other pro-independence leaders.
In October 2019, nine of Puigdemont's former ministers who stayed in Catalonia and faced trial for the independence push were sentenced to serve between 9 and 13 years in prison for the crime of sedition.
#Últimahora El Tribunal d'Apel·lació de Brussel·les rebutja l'extradició de l'exconseller Lluís Puig

La fiscalia té 24 hores per presentar un últim recurs davant del Tribunal de Cassació#ACNInforma @agenciaacn https://t.co/fe5mdEp9OD

— Natàlia Segura (@nataliasegura_) January 7, 2021