Belgium rejects third Spanish arrest warrant against Catalan leader Lluís Puig
Public prosecutor appeals court's decision, which says Spain's Supreme Court does not have the authority to request the politician's extradition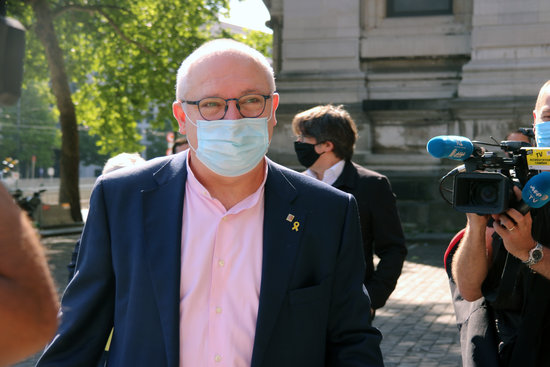 Spain's third attempt to extradite Catalan independence leader Lluís Puig met a dead end on Friday as it was struck down by a Belgian court.
According to the Belgian court, Spain's Supreme Court does not have the authority to order Puig's extradition.
Belgium's public prosecutor announced later on Friday that it was appealing the court's decision.
Lluís Puig, who moved to Brussels in November 2017 following Spain's push back against the independence movement, believes the Belgian court's decision proves "the Supreme Court did not have the authority to try the referendum organizers."
Former Catalan president Carles Puigdemont, also in Belgium, was quick to react to the news concerning the man who was his cabinet's culture minister.
"We've denounced this from the beginning and the UN's working group on human rights said it too. Now the Belgian justice system confirms the same thing: the Supreme Court does not have the authority to go after us and judge us. Fundamental rights are not respected in the Kingdom of Spain. Congratulations Lluís Puig Gordi," Puigdemont's Tweet reads.
Ho hem denunciat des del primer moment i ho va dir el grup de treball del comitè de DD.HH. de l'ONU. Ara ho confirma la justícia belga: el Suprem no és competent per perseguir-nos i jutjar-nos. Al Regne d'Espanya no es respecten drets fonamentals. Enhorabona @LluisPuigGordi! https://t.co/dgFhu3IT4H

— Carles Puigdemont (@KRLS) August 7, 2020
President Quim Torra also expressed his support for the Belgian court's decision. "If the Supreme Court does not have the authority to try Puig, it doesn't have the authority to try any of the others either," he affirmed during his opening speech in the Catalan parliament's debate on the Spanish monarchy.
Meanwhile, markedly anti-independence Ciudadanos, the main opposition group in the Catalan parliament, reacted by professing their "respect" for all legal rulings while also stressing the "urgency" with which the European Arrest Warrant system must be reformed to make it "more efficient."