Bars to reopen with no outdoor limit as Catalonia prepares to gradually lift Covid restrictions
Gyms will also able to open as government issues changes to original plans announced earlier in the week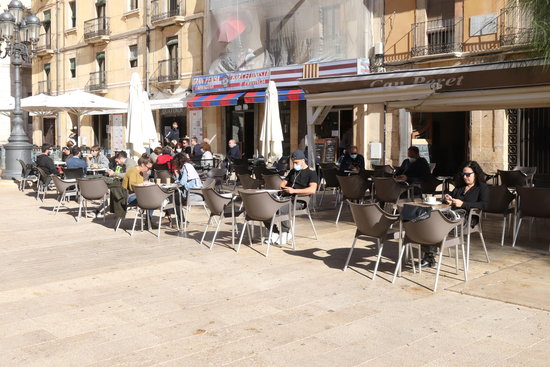 Bars and restaurants will be able to serve customers with no capacity limits on outdoor seating starting next Monday after the Catalan government announced changes to the lifting of measures originally announced earlier in the week.
Interiors of bars and restaurants will still have to operate at only 30% of their regular total capacity. They will have to close no later than 9.30 each night, as the 10 pm curfew will still be in place.
Gyms will also be able to open from Monday at 30% - another change to the initial plan which foresaw them opening in the second stage of the de-escalation of the measures in place to stop the spread of Covid-19.
Additionally, in the first of four de-escalation phases, cultural activities will be able to accommodate 50% of their regular total capacities. This means that cinemas, theatres, and live music venues will be able to open up again at 50% but with a maximum capacity of 500 people.
At a government press conference, vice president Pere Aragonès also announced further details of how Catalonia will gradually reopen borders.
In the first stage, beginning on Monday, all of Catalonia's outer borders will remain shut, as they are currently. On weekends, municipal borders will also be closed.
Stage two will still see Catalonia's outer borders closed, while the weekend lockdown will move from municipal to county.
In the third phase, the perimeter confinement will be lifted and weekend mobility restrictions will end. This is planned to take place on December 21.
Aragonès urged "maximum responsibility" ahead of the Christmas holidays and to reduce social contact, ensure good ventilation, and wear face masks when meeting people outside their social bubble. "We can't send a police officer to each home," he said.