Barcelona's L3 metro line: no service from Paral·lel to Liceu until August 17
Public transport line covering La Rambla boulevard halts traffic to remove asbestos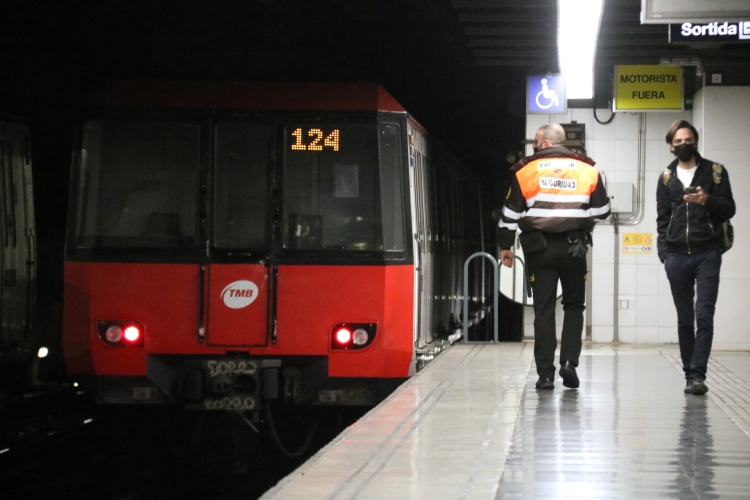 Barcelona's L3 metro line travelers will face some difficulties from August 1 to 17 as the underground will be partly closed. Trains will not run between Paral·lel and Liceu stops while workers remove asbestos.
This will impact those visitors walking around La Rambla boulevard, as Liceu stop (next to the music hall) and Drassanes (by the sea) are two of the affected stations. On the other hand, travelers going to any stop between Liceu and Trinitat Nova, which includes Plaça de Catalunya, Passeig de Gràcia, and Lesseps, the metro station used to access Gaudí's Park Güell, will not face any issues.
The same will happen for those metro users going from Paral·lel to Zona Universitària, as trains still stop in the stations in between. Including Palau Reial and Les Corts, the closest ones to FC Barcelona's Camp Nou stadium.
Because the issue affects only three stations, authorities have not set up any shuttle bus during the works that can be used as a replacement.
"We considered that a shuttle bus would not give any quality and alternative options to move between these three stations," Laia Bonet, president of Barcelona's Metropolitan transports administration (TMB) said on Monday.
To avoid any transport issues, TMB recommends using bus lines V13, 59, D20, and H14.
L5 line, also on halt
L3 metro line is not the only one affected during the summer, because of renovation works as Barcelona's L5 line will have partial halts as well. In this case, traffic is cut between La Sagrera and El Carmel.
This will allow workers to change three kilometers of rails. "A very important part of the L5, as it represents 25% of the overall metro users in the whole city," Bonet explained.
Works started on July 1 between La Sagrera and Horta, and on August 1, traffic halts will be extended until El Carmel.
Authorities hope to reopen the whole L5 metro line on August 31.
Ghost stations
Barcelona's medieval walls prevented – or at least complicated – a number of attacks over the centuries until its demolition in the 1850s. But even after being removed, those historic walls fulfilled one last purpose a century later: contributing to today's underground tunnels and creating a mythical metro station named after a legendary architect: 'Gaudí'.
The original works to build the L2 between Horta and Sagrada Família advanced at a good pace, but those between Parallel and Sagrada Família in the late 1960s had more problems as the machine used to build the underground tunnel had to clear the remains of an old foe in the district of Sant Antoni: the old city walls.
Listen to our Filling the Sink podcast episode about going underground.