Barcelona plans new green boulevard on Gran Via above Glòries tunnel
City Council plans to put project out to tender before end of term so work can start in 2024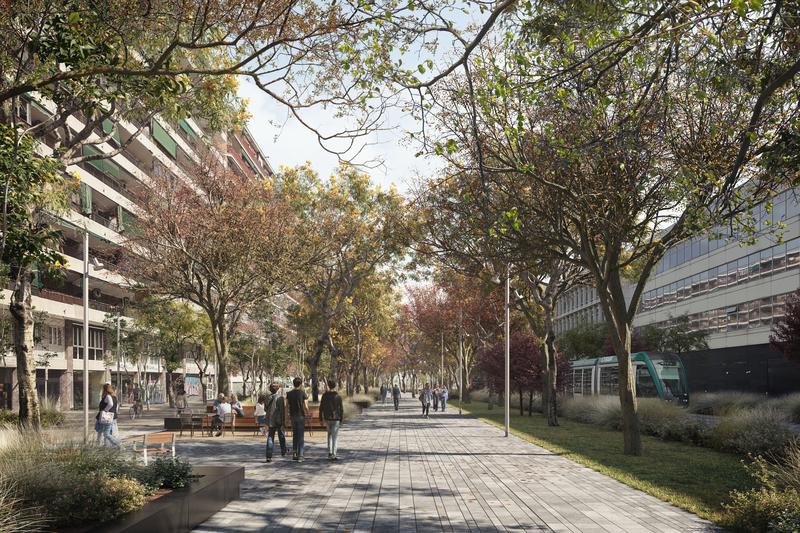 Barcelona City Council plans to create a new green boulevard on Gran Via above the Glòries road tunnel between Badajoz and Bilbao streets.
The aim is the permanent and definitive transformation of the area, where there is already a temporary space for relaxing and playing games, according to the deputy mayor for urbanism, Janet Sanz.
The project involves turning 70,000 m2 green, with a large 21-metre-wide tree-lined avenue. In addition, there will be space for bicycles, local traffic and services, buses and trams.
The council plans to accept tenders for the project before the end of the current term so that work can start in 2024.
Pollution reduction
Thanks to the Glòries tunnel, Sanz said, residents have already seen a "substantial" reduction in cars, noise and pollution.
It is now necessary to continue the logic of transformation and create a "green promenade" that will connect with Glòries Park. "It seems utopian, but with this project we are demonstrating that it can become a reality very soon," Sanz said.
The project
The redeveloped street will have a 21-meter-wide space for pedestrians, which will accommodate about 200 benches and chairs, as well as play areas, picnic areas and games areas with table tennis tables and chess tables.
There will be a "renaturalization" of the promenade with the planting of about 450 trees and shrubs.
The next step, according to Sanz, is to bring the definitive executive project to the governing commission on April 20 for approval, so that it can go to tender before the end of this political term, in order to then begin work in the first quarter of 2024.
Local elections are due at the end of May.
The project is structured in two phases. The first will will begin in 2024 and last until the beginning of 2025, with an investment of €11.5m.
The second phase will be undertaken together with the Metropolitan Transport Authority (ATM) as it involves the side where the tram will pass.
The council points out that part of the investment will be borne by the ATM, although it has not yet specified how much.
The second phase is estimated to be completed by spring 2026.