Barcelona hosts European Young Leaders for first time
Catalan capital follows cities like London and Rome in offering forum for "next generation of leaders" to debate future of Europe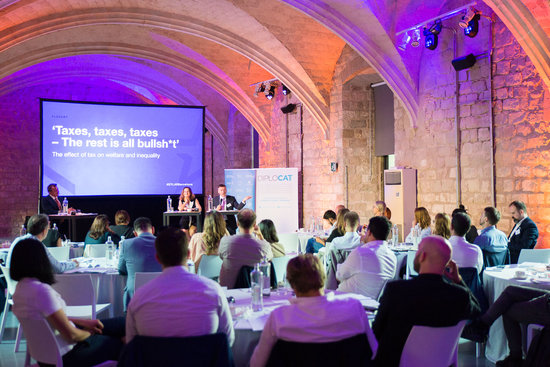 Barcelona is hosting for the first time the 'European Young Leaders' (EYL40) program from the Friends of Europe think tank, bringing together dozens of people under the age of 40 from different countries and backgrounds to debate the future of Europe.
The Catalan capital takes over from London, which hosted the program's first session earlier this year, and follows in the footsteps of other major European cities, such as Rome, Lisbon and Paris, all of which have hosted one of the program's eight editions so far.
Jamila Aanzi, former Dutch UN representative and a European Young Leader, says EYL40 takes the debate on Europe beyond Brussels: "It's even more important if you talk about European issues to go to those places where those issues are being discussed," she said
The EYL40 says its aim is to bring together "a new generation of leaders" from such different backgrounds as politics, business or the arts, "to put their innovative thinking to work at building a more forward-thinking Europe that is a global champion for a better world."
Aanzi, who since joining the EYL40 program in 2014 has attended numerous conferences in different countries, says that the range of backgrounds is key to the program's success, as "the variety of views is important for finding solutions and different results."
Connecting people, projects, and ideas
Entrepreneur Josep-Maria Gascon, who was an advisor in the government of former Catalan president Artur Mas, joined the program in 2014, and after attending conferences in a number of European cities, suggested that Barcelona would make a good venue.
That led to Catalonia's Diplomacy Council, Diplocat, to make a bid to bring EYL40 to the Catalan capital: "We applied for it because we believe that it fits 100% with our mission, which is connecting people, projects, and ideas," said Diplocat head, Laura Foraster.
Meanwhile, Gascon stresses the importance of holding such events in Barcelona: "This is a possibility to attract talent, to attract international perspectives, to share our city, the assets of our city with an amazing pool of talent," he said.
Friends of Europe is a Brussels-based think tank set up two decades ago to promote new ideas on Europe's future and tackle the challenges it faces by organizing debates and producing reports on a range of topics from industrial policy and health to the environment.