Barcelona enters lockdown easing Phase 1 and part of Catalonia, Phase 2
Terraces and hotels allowed to open in capital, as indoor areas of restaurants, cinemas and shopping malls can operate in Tarragona, Pyrenees and Ebre regions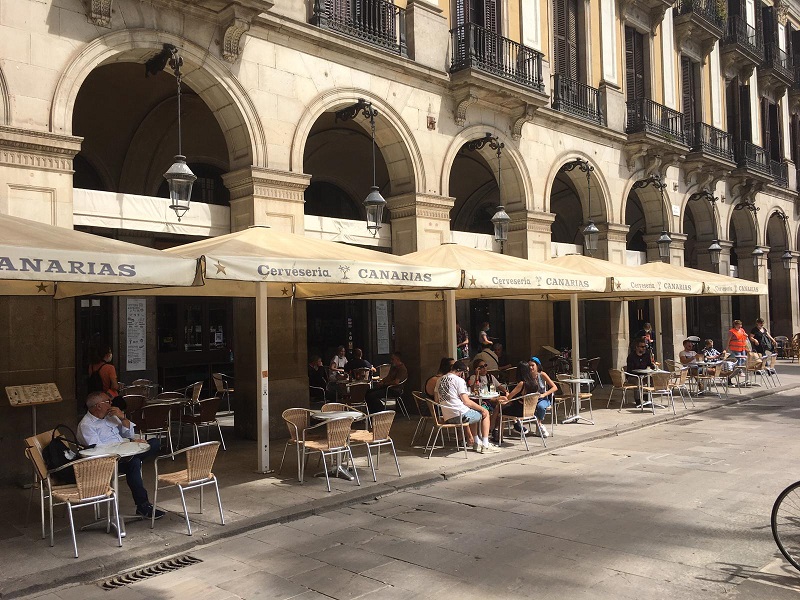 Barcelona and its metropolitan area (both north and south) entered lockdown easing Phase 1 on Monday morning – they are the last regions to move on from Phase 0 of the four-stage Spanish government plan.
They will join Girona, Lleida and central Catalonia, which moved to Phase 1 last week and will move to the next stage next Monday at the earliest.
Meanwhile, this Monday sees the first regions to move to Phase 2 – Tarragona, Ebre and the western Catalan Pyrenees.
Check out this Q&A to see what is and is not allowed in each phase.
Barcelona: bar terraces and hotels allowed to open, but most stay closed
One of the most long-awaited measures that this change will mean in the capital is that bar and restaurant outdoor seating areas will be able to open, at 50% of capacity.
Yet, in practice, two in three will not operate until Phase 2 – at least until June 8, in two weeks –, because owners believe it is not worth their while opening.
Indeed, according to Barcelona's main restaurant association (Gremi de Restauradors), 70% of terraces have four tables or less, of which they can only open half.
"This Phase 1 will be a warm up, eyeing Phase 2, when we will see a massive reopening," said the association's head, Roger Pallarols.
Hotels are also allowed to open in Phase 1, but with the ban on leaving the health region not expected to be lifted until Phase 3, not many opened on Monday, according to Barcelona's main hotel association (Gremi d'Hotelers).
Also in the Barcelona area, the first gyms are expected to open, and groups of friends and relatives of up to 10 people will be able to meet again for the first time in two and a half months, both outdoors and indoors.
Yet, set time slots for strolling and doing exercise are still in operation, and people will still not be able to leave the health region, except for work or medical reasons.
Phase 2: restaurants, leisure and culture reactivating
Tarragona, Ebre and the western Catalan Pyrenees were the first regions in Catalonia to move to Phase 2 – and if all goes as planned, they will be able to finish the scheme and enter the so-called 'new normality' on June 22.
The key measures include restaurants and bars being able to open not just their terraces, but also their indoor seating areas.
The leisure and culture sector should also get a boost in these areas, because cinemas and theaters can open at 33% capacity, as well as shopping malls and recreational swimming pools with similar limitations.
Public monuments can also open and in fact, Tarragona's Roman Tarraco sites opened on Monday morning.
Cultural events can have a maximum of 400 people outdoors and 50 indoors, and weddings, 100 guests outdoors and 50 indoors.
Set time slots for walks and exercise are also lifted in Phase 2, for the most part.
People under 70 are allowed out at any time, excluding the time slots for elderly people to go for a walk or exercise, which remain unchanged: 10am-12 noon and 7-8pm.