Barcelona 2020 pollution levels reach historic lows due to pandemic
Report says typical traffic levels must fall by 12% to keep NO2 within EU limits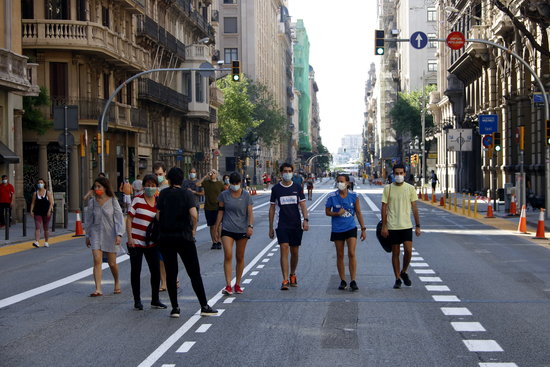 Pollution levels in Barcelona in 2020 were within World Health Organization and EU limits for the first time in twenty years, according to an annual report from Pollution Barcelona (Contaminació Barcelona in Catalan).
Lockdowns, travel restrictions, and working from home during the pandemic has meant fewer vehicles on the roads in the Catalan capital.
Provisional data from the Atmospheric Pollution Monitoring and Forecasting Network indicates that levels of Nitrogen dioxide (NO2) above the 40 µg/m3 threshold were not detected at any of the measuring stations in the city, a first since the network was established.
Moreover, Pollution Barcelona, part of the ENT Foundation, says the data collected during 2020 has enabled researchers to reach the following conclusion: traffic levels on working days must fall by 12% compared to pre-pandemic norms if pollution levels are to remain within EU legal limits.
To put it another way, traffic levels could increase slightly on those recorded between September and December 2020 and remain on the right side of the regulations.
NO2 levels recorded in 2020 have fallen by 28% at traffic stations and by 25% at background monitoring stations, compared to 2019; 33% and 30% respectively compared to the average level over the previous four years.
PM10 particle pollution has also reached historic lows, although the fall has been less significant than in the case of NO2. Recorded annual levels have decreased by 12% at traffic stations and 24% at background monitoring stations, according to the report.