Anatoly Shariy, 'pro-Putin' Ukrainian residing in Catalonia wanted back home
Protesters rally outside his house, while he calls for judicial protection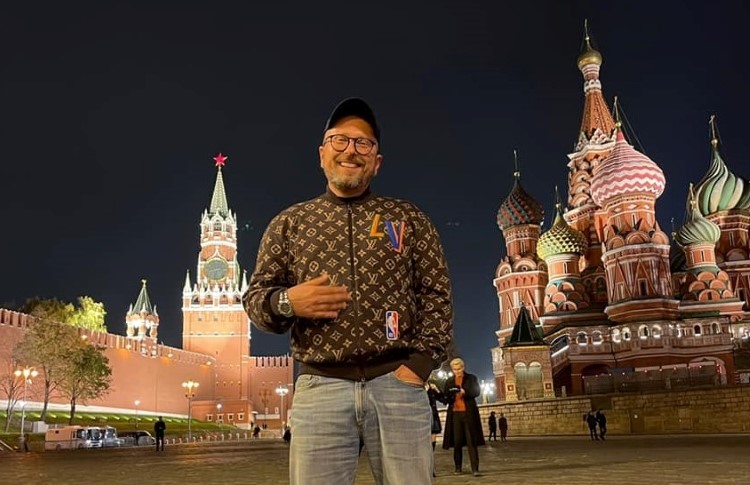 Anatoly Shariy is not known to the majority of Catalan residents, but he has almost three million subscribers on his YouTube channel. He is a Ukrainian journalist residing in Catalonia since 2016 and chased by his compatriots who claim he publishes "homophobic, racist, and nazi content."
The Ukrainian is also a politician back home with his own political party since 2019 and has a large community of social media followers with over half a million subscribers on his Telegram channel.
In 2019, Anatoly Shariy and his wife, Olga Bondarenko, moved to a seaside town near Tarragona, south of Barcelona, as Spanish La Vanguardia newspaper reports. But his journey started long before moving to the Catalan town of Roda de Berà.
Shariy left his country in 2012 to go to the European Union, Lithuania specifically. At the time, some media outlets that spoke to him, including La Vanguardia or Spanish El País newspaper, said he was a journalist reporting on corruption scandals and he had to flee the country for that reason.
The Ukrainian published police links to drug trafficking during Viktor Yanukovych's presidency.
He traveled to Lithuania and requested asylum status. Critics contradict his claims saying he asked for political asylum, as Shariy says he is a political opponent, but he is known to be "an opponent to all Ukrainian things," Taras Atamanchuk, a Ukrainian residing in Catalonia that demonstrated in front of Shariy's house on March 24.
From Lithuania to Catalonia
The trip from Lithuania to Catalonia did not take place until 2016, four years after Shariy had left his home country, La Vanguardia reports.
Before moving to the Mediterranean, Shariy reported on the 2014 annexation of the Crimean peninsula by Russia. At the time, he became a "pro-Russia propagandist," Atamanchuk told Catalan News over the phone.
"Shariy used to publish maps of Ukraine without Crimea, and he used to say that there had been a coup d'etat, as former Ukrainian president Yanukovich had to leave the country to go to Russia," Atamanchuk says.
From there, critics of Anatoly Shariy say he then became "pro-Putin 100%."
However, Shariy contradicted these claims during an interview with the Barcelona-based La Vanguardia newspaper in July 2021.
"I was born in Kyiv, I am a seventh-generation Ukrainian, I have been to Russia only once. In 2007, I was invited to a TV show to talk about dogs murdering, nothing close to politics," Shariy told the media outlet.
Anatoly moved to Catalonia in 2016. At that moment, he enjoyed asylum status given by Lithuania, and in 2019, based in Tarragona, the Ukrainian founded his political party, the Party of Shariy.
He obtained 2.23% of the votes in the legislative elections that year, which saw the current Ukrainian president, Volodymyr Zelenskyy, elected. Shariy failed to secure the threshold of 5%.
Those elections changed his life. With Zelenskyy as the leader, Shariy says he lost his political asylum, and he feared during the La Vanguardia interview, that he would be extradited.
"If I was a Russian opposition member, instead of a Ukrainian one, all European media would be interviewing me and there would be protests for the persecution I am a victim of," Shariy told the newspaper.
"If I return to Ukraine they will jail me. And, probably not on the first day, but soon I would end up dead," he added during his interview.
But critics say Shariy already knew where he was going before fleeing his country.
"When he went into exile, he studied where he could go, and he realized he could hide in Spain," Taras Atamanchuk explains.
Shariy has been claiming that people "chase him," Atamanchuk says, but "as Spain is a democratic country, we were just demonstrating," he added.
Harassment claims
What Taras Atamanchuk is referring to are the small protests that have taken place outside Shariy's house in Catalonia.
While you may expect this information to be private and not accessible to everyone, a Ukrainian residing in Catalonia paid €24 some time ago to check the property registry, as El País reported in May 2021.
Oleksandr Zoloutukhin published the information and now several people have access to his home address, including this media outlet, as sources have shared it.
It has been reported by Spanish media, such as La Sexta TV broadcaster, that Zoloutukhin posted Hitler and nazi-related pictures and antisemitism messages on Facebook.
Since the information was made public, several Ukrainians have demonstrated in front of Anatolii Shariy's house in Roda de Berà, the last rally on March 24, attended by Atamanchuk.
"That day, 15 of us went to demonstrate, although we did not know each other before. We met at the daily demonstrations in Plaça de Catalunya square, in the city center of Barcelona. We then decided to go to his place," he told Catalan News.
Shariy then shared a video recorded during the night.
Наверное, это того стоило. И сейчас централизованно разгоняют «новость века» в украинских СМИ, забыв о войне. Офис Президента по-прежнему занят делом. Но вот это видео, массово тиражируемое «героями» я откровенно не понял. Без проблем его публикую сам. С удовольствием даже🤡✌🏻 pic.twitter.com/GVoeQXhaKj

— Анатолий Шарий (@anatoliisharii) March 25, 2022
The video, uploaded by several social media users, shows a moment of tension between several people, one of them Anatoly Shariy but "he said it was nazis demonstrating paid by the Ukrainian president," Atamanchuk says.
"It is not normal what he says," he adds, as the only reason Shariy does this, Atamanchuk believes, is for people to fight with him.
After 30 minutes of protests, they all left. It all happened around 8pm, and the local police and Shariy's private security detail had to intervene, sources tell Catalan News.
The reason behind provoking people is for him to get "protection" as he is in danger, Atamanchuk says.
Judicial case
Anatoly Shariy, who enjoyed asylum status before moving to Catalonia, now faces extradition, as he said during the interview with La Vanguardia. He is under an arrest warrant by the Security Service of Ukraine (SBU), the main intelligence and security agency in the country.
The SBU accuses him of high treason, punishable with up to 15 years in prison, as the agency has proof that the Ukrainian has acted under the influence of international organizations, according to La Vanguardia. In Ukraine, this means he has been acting for Russian authorities. Shariy did not attend the trial, and is therefore wanted, the Spanish newspaper explained.
He does not have any asylum status now. Catalan police and a Spanish judge have been investigating the long-term alleged harassment and threats he has been receiving for a while, especially from the Azov Battalion, a far-right former paramilitary group, now part of the National Guard of Ukraine.
The group is based in Mariupol, western Ukraine, near the Azov Sea.
In one of the reports from the judicial case, the Catalan Mossos d'Esquadra police say they believe that Anatoly Shariy and Olga Bondarenko are being "besieged and pursued for his journalistic work and for being part" of an opposition party, the report seen by the Spanish El País newspaper reads.
Another media outlet, Catalunya Plural, says that judge Eduardo Moreno already considers the Ukrainian a protected witness.
Anatoly Shariy is "a dangerous and violent person, not only for Ukrainians residing in Catalonia, but also for Spaniards living here, such as his neighbors," Atamanchuk says. He believes Shariy has a weapon in his house, although he is not able to provide evidence of his claim. Catalan News cannot confirm the veracity of Atamanchuk claims.

WC in front of his house
The alleged harassment against Shariy has been quite noticeable in the past weeks, but it has been going on for some years.
In September 2020, a group of three people wearing Ukrainian flags and symbols left a toilet outside his house.
In another attack, signs appeared on the street where he lives with his wife and son calling Shariy a pedophile. At the time, his now-former lawyer, Jordi Roca, said to El País newspaper these claims were false and the Netherlands directly dismissed the accusation.
Serhii Ivanov, who has been part of Ukraine's administration, published a selfie in front Shariy's house in Roda de Berà. He also published Bondarenko's private data, after she renewed her passport and registered their son in the Ukrainian consulate in Barcelona, El País newspaper reported.
Future
Shariy's future is still unknown as sources have not given any information about his current situation.
Back in June 2021, the director of the Catalan government office for Civil and Political Rights told the family that they complied with the conditions for Spain to give them asylum. Nonetheless, Shariy had asylum which he lost years ago, suggesting he is currently without any legal protection.
Catalan News reached out to Anatoly Shariy and his lawyer, but at the time of publication have not received a response.