A dozen teachers in isolation after coronavirus positive found
The group will undergo PCR tests on Monday to determine whether or not to fully quarantine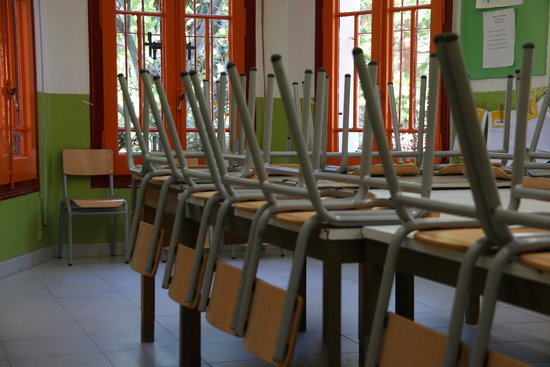 A dozen teachers from a school in Lleida are isolating after one of them tested positive for Covid-19.
The minister of education, Josep Bargalló, said that the educators will undergo PCR tests on Monday to determine whether they should be quarantined or not.
The positive test potentially poses the first major hurdle of the new academic year for the department of education. Pupils will be expecting to return to classrooms on September 14 across the country.
Bargalló explained that the teachers were in "close contact" with the person who has tested positive in a screening outside the school.
In addition, the minister said that "we have to get used" to these kind of cases because they will also happen in "workplaces and apartment blocks."
He went on to say that he hopes the results of the PCR tests turn out negative and that the teachers will not need to be replaced before the start of the school year.
Students-per-teacher ratio not ready for new year
Elsewhere, Josep Bargalló has estimated that 30% of classes in public schools -in infant, primary, and secondary- fail to meet the ratios of a maximum of 20 children per classroom, 9 days before the beginning of the 2020-2021 school year.
"The centers do not know how to solve the issue or are in the middle of solving it at the moment. On Monday or Tuesday we will be in a position to say where extraordinary actions will have to be taken," Bargalló said this Saturday to Catalan radio station Rac1.
"If necessary, more teachers will be hired. But it is not the solution in all cases," said the minister.