30km walk retraces route of Lincoln-Washington Battalion's Civil War retreat
International Brigade republicans drew back from Francoist troops on night of April 1, 1938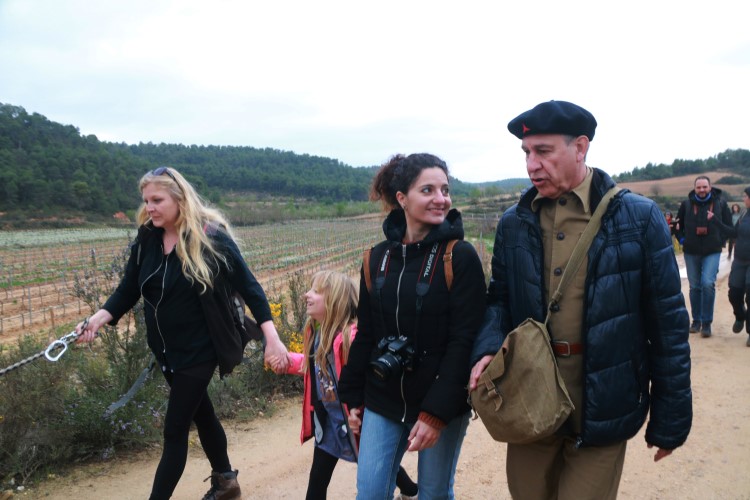 In a remote corner of Terra Alta in southwest Catalonia, around 30 people undertook a 30km walk on Sunday to commemorate the Lincoln-Washington Battalion.
Former initially by volunteers from the United States, the battalion was one of the International Brigades made up mainly of foreign fighters who rallied to the republican cause against Franco's forces during the Spanish Civil War.
Sunday's hike between Batea and Corbera d'Ebre recalled the night of April 1, 1938 when members of the battalion retreated from Francoist troops, battling fatigue, hunger and low morale, as Anna Martí explained.
"They were exhausted, they walked during the night and they didn't know exactly where they were. Often small groups deviated from the path without realizing it and others fell so soundly asleep on the ground that their comrades had to kick them to wake them up." In addition, they were aware that Francoist soldiers were close by and could catch them at any time.
According to documents from the time, the brigadiers were in the Terra Alta area between March 18 and April 2. During this period, the unit planned their retreat, which took place on the night of April 1.
After walking through the night, some of the soldiers arrived at a spot between Corbera d'Ebre and Gandesa, where fighting was ongoing. Unaware of the situation at first, the brigadiers landed in enemy territory.
Although the retreat had been planned, it eventually became a "disbandment" in which soldiers tried to escape individually to avoid being captured. Around half of the battalion were killed and about forty soldiers were taken prisoner.
Retracing steps
Sunday's walk was the fourth organised by the Herència Altés winery as an exercise in historical memory, with participants trying to put themselves in the shoes of local and international republican soldiers.
Although most of the walkers wore decent hiking shoes and sportswear, historian Josep Xaubet chose to wear the uniform of the republican army.
"Fortunately, we are not at war, as is the case in other parts of Europe right now." he said.
The winery's co-owner, Núria Altés, explained there is "a strong link between wine and the history of a place; wine without history is completely naked." In fact, one of their wines 'Las Colinas del Ebro' was made in honor of the brigadiers.