'Violence and intolerance' have no place in Catalonia, says Spanish king
Thousands of protesters gathered outside the event the monarch was speaking at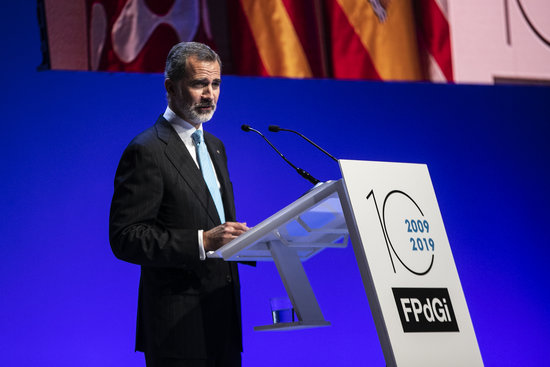 The Spanish king, Felipe VI, said that "violence, intolerance, and the disparagement of others' rights and freedoms" have no place in Catalonia, and praised Catalonia's "contribution" to Spanish democracy, in a speech made during an event in Barcelona on Monday.
The monarch was speaking in the Palau de los Congressos convention center in the Catalan capital at an event for the Princess of Girona Foundation. Thousands of protesters gathered outside the venue to protest the visit of the monarch, and burned portraits of him as well as Spanish flags.
It was the Spanish ruler's first visit to Catalonia since Spain's Supreme Court ruling sentenced nine Catalan political and civic leaders to lengthy jail terms in the Catalan Trial. The demonstrators also held a 'cassolada' - a public, collective display of anger and/or disgust, which involves banging pots and pans to create as much noise as possible.
In total, the protests lasted until around 10 pm, and blocked some of the key roads entering and leaving Barcelona city.
The king's words at the event drew applause from the crowd. He then went on to praise a Catalonia "proud of its signs of identity, plural and integrating, constructive and supportive of progress in general" that was "inspiring for the rest of Spain."
One of the recipients of the Princess of Girona award, the Catalan mathematician Xavier Ros-Otón, wore a yellow ribbon in support of jailed and imprisoned independence leaders.
Princess Leonor, heir to the Spanish throne, also made a speech at the event. Speaking in Catalan, she told the attendees that "Catalonia will always have a special place in [her] heart."