Unionists announce rallies after verdict in case of pro-independence 'uprising'
Officials for People's Party, Socialists and Ciutadans call for unity while contradict over motion of no confidence to president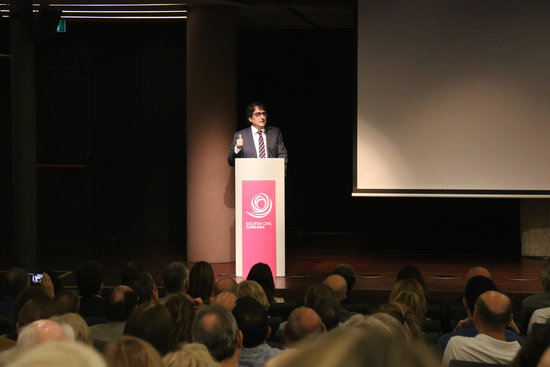 The unionist camp has announced rallies after the verdict on the 2017 referendum leaders if the likely bitter reaction from the independence camp includes "overflowing and an uprising."
Several political and civic leaders in the pro-Spain's unity front held an event on Saturday to remember the 350,000-strong demonstration they held on October 8, 2017 against the independence push few days after the referendum.
Hosted by Societat Civil Catalana group, the event included its president, Fernando Sánchez Costa, who in comments to the press said unionists would "massively take to the streets" depending on how independence supporters react.
So far, the two mainstream organizations have already announced five three-day marches and other mobilizations.
Sánchez Costa referred to those plans saying that Catalonia does not need "tsunamis or marches," but "a wave of calm and change."
Discrepancies over motion of no confidence
Several officials for the three main unionist parties in the Catalan parliament – the Socialists, Ciutadans and the People's Party – attended the event in Barcelona's La Pedrera.
In their speeches, they all asked for unity of the pro-Spain's unity camp, but the backdrop was the motion of no confidence against the Catalan president, Quim Torra, which will be discussed in the chamber on Monday.
While People's Party backs Ciutadans' motion, the Socialists have announced they will not support it and will abstain.
David Pérez, Socialist MP, called for "the unity of constitutionalism" to achieve "large agreements in Spain." Yet he called the other parties to "respect" their stance in the motion of no confidence.
Cayetana Álvarez de Toledo, People's Party MP in Spain's congress, called the Socialists to back the motion. The party leader in Catalonia, Alejandro Fernández, told the press that they will not "accept" pro-independence protests that "violate rights."
Ciutadans' MP Carlos Carrizosa accused the independence camp of "delegating" violence to activists such as CDR groups. "They are neither civic, nor democratic or peaceful," he said.