Unionists accuse government of corruption in parliament spat
Cs MP says executive is surrounded by "putrefaction and corruption" and clashes with speaker over "sexist" comments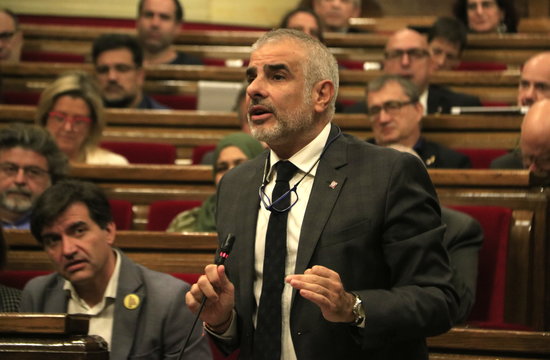 Thursday's session in parliament ended in controversy, with the unionist Cs party accusing the Catalan government and the pro-independence JxCat party of corruption.
Cs parliamentary head, Carlos Carrizosa, said the government was surrounded by "putrefaction and corruption," and he named three JxCat ministers in the executive.
Carrizosa began by asking president Quim Torra if he will fire the head of the sports agency, Gerard Figueras, following his arrest earlier this month in a corruption investigation.
The Cs MP went on to link a number of other government and JxCat members with alleged cases of corruption, comparing the government frontbench to "a police lineup."
Specifically, Carrizosa highlighted the links between ministers Damià Calvet and Jordi Puigneró with the Sant Cugat council, which is under investigation over irregular contracts.
He also pointed out that the interior minister, Miquel Buch, is under investigation for using public money for an alleged escort for exiled former president, Carles Puigdemont.
Torra replied saying today "is one of the days in which Cs has stooped to its lowest level," and he accused the party of "slander" to hide its poor showing in the recent election.
"They want confrontation, but they won't get it," said Torra, who then addressed other matters, drawing a complaint from Carrizosa that the president never answers Cs questions.
'Sexist' dispute between Torrent and Carrizosa
Yet, Carrizosa's accusations did get a response from the parliament speaker, Roger Torrent, who rebuked the Cs MP for asking a female MP to explain the actions of her partner.
Carrizosa had demanded MP, Aurora Madaula, explain the "bites" taken by the JxCat affiliated CatDem foundation, which was headed by Madaula's partner, Agustí Colomines.
Yet, the Cs MP was far from pleased by Torrent's reprimand and turned the tables on the speaker, accusing him of using a "sexist tone" in his defense of Madaula.
Torrent later justified his intervention on Twitter, saying: "I can't allow an attack on a female MP over the actions of her partner, whatever the party they belong to."
Carrizosa responded, also on the social media platform, that it is "scandalous" for Torrent to use his position as speaker to "cover up the corruption of his pro-independence buddies."