Unionist party leaders want Spanish as working language in all schools
Heads of PP and Cs parties accuse Catalan educational system of "indoctrinating" students in favor of independence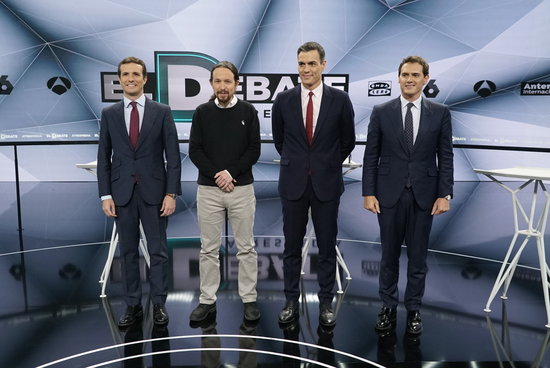 The leaders of the PP and Cs conservative parties said they want Spanish to be the working language in all schools in Spain, in the second televised debate ahead of this Sunday Spanish election hosted by the Atresmedia media group.
With the Spanish general election on Sunday, PP leader Pablo Casado added that his party would ensure there would be no "indoctrination" in classrooms by increasing the number of school inspections.
The language question is a delicate issue in Catalonia, where the education system is in the hands of the Catalan administration, and where Catalan is the main working language in all schools there.
As for Cs leader Albert Rivera, who is himself Catalan, he added that his party also favors the Spanish Constitution being taught as a separate school subject.
The head of the leftwing Podemos party Pablo Iglesias said the problem of schools in Spain is the lack "funding," while Spanish president Pedro Sánchez did not tackle the language question but pledged his party would "reverse" the education cuts imposed by the previous PP government.
Catalonia's "linguistic immersion" policy under attack
Both the PP and Cs parties have been critical of the Catalan government's "linguistic immersion" policies and have accused schools in Catalonia of indoctrinating students in favor of independence.
PP's candidate for Barcelona in the upcoming election, Cayetana Álvarez de Toledo, recently told El País newspaper: "Separatism has turned Catalan into a problem. Schools are indoctrinating [students]."
Meanwhile, in a recent campaign event in Salou, Cs Barcelona candidate, Inés Arrimadas, vowed to impose Spanish as a working language in classrooms in Catalonia "so that children are not indoctrinated at school."