Cs party wants obligatory school subject on 'Spanish Constitution'
Unionist party head says anyone "bothered" by the idea "has a problem with democracy"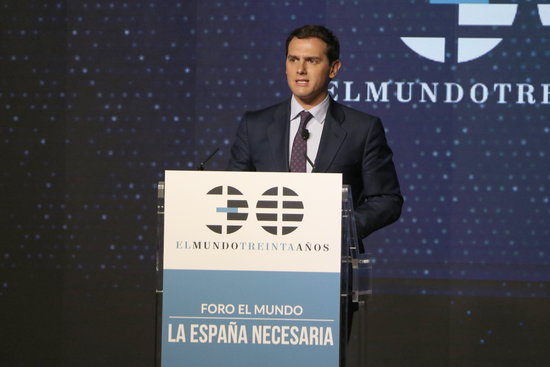 The Spanish Constitution should be a new "obligatory" subject in schools, according to the head of the unionist Cuidadanos (Cs) party, Albert Rivera.
"We will introduce a new subject called the "Spanish Constitution" that all Spanish citizens will have to study," said Rivera on Monday.
The proposal is just one of a package of educational measures put forward by the Cs party as the Spanish general election approaches, on April 28.
According to Rivera, anyone who might be "bothered" by the idea of a school subject on the Spanish Constitution "has a problem with democracy."
"To me, it seems a marvelous idea that in schools in every corner of Spain students should study the Spanish Constitution," he added.
Cs is one of the political parties most against the independence movement in Catalonia, arguing that the Constitution enshrines the unity of Spain as a key principle.
Proposal welcomed by PSOE
Spain's ruling Socialist party welcomed Rivera's suggestion, with the PSOE party secretary, José Luis Ábalos, calling the proposal a "very good" one.
Yet, Ábalos added that there would be no need to "restrict" the teaching of the Spanish Constitution to a single subject of the same name.
The Socialists favor reintroducing the subject of 'citizen education,' which would include the Constitution and other documents, such as the Universal Declaration of Human Rights.
Catalan Socialists want "consensus within the Constitution"
The lead candidate for the Catalan Socialists (PSC), Meritxell Batet, said on Monday that voters in the general election will not choose between the Constitution and independence, but between "permanent direct rule" and "self-government."
With parties on the right calling for a return of direct rule in Catalonia, after it was first imposed following the declaration of independence in 2017, Batet called on Catalan parties to "build consensus" so as to strengthen self-government.
Batet, who is also the Spanish Minister for Territorial Policy, added that PSC has never been for self-determination in Catalonia, and said her party favors "building consensus within the Constitution."
Torra calls on Socialists to "clarify" proposals for Catalonia
Meanwhile, president Quim Torra called on Spanish president Pedro Sánchez to clarify his proposals for Catalonia, saying that after 10 months of Socialist rule he still does not know "what PSOE is proposing."
Torra added that after the election, the first thing he will bring up with the new Spanish government will be self-determination, and he urged the Socialist leader to "listen" to the 80% of Catalans who want a referendum, according to a number of polls.