Unionist MEP clashes with Puigdemont in EU parliament
Former president asks PP member to respect "presumption of innocence" after she calls him a "fugitive from justice"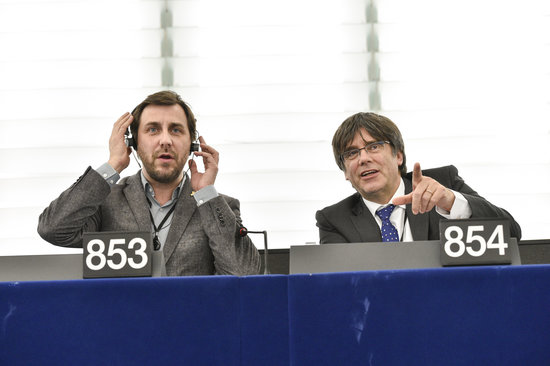 MEPs Carles Puigdemont (JxCat) and Dolors Montserrat (PP) clashed on Wednesday in the European Parliament while the chamber held a debate on the future of Europe.
Montserrat accused the exiled former Catalan president of being a "fugitive from justice who tried to carry out a coup and who stole public money."
In return, Puigdemont called on the unionist politician to respect the principle of presumption of innocence: "what convictions does she refer to, to which trial?" he asked.
"Europe is a political project based on the rule of law, a community of values of which Spain is part. Europe is an antidote to your destructive nationalism," Montserrat told Puigdemont.
"Immunity is not impunity, no one here is above the law. When will you lose your fear of facing justice?" she went on to ask the former Catalan leader.
"States have to comply with the law, it's true, and Spain is the first to be given penalties for not complying with it," answered Puigdemont.
Puigdemont speaks about Europe and its citizens
The exchange between Puigdemont and Montserrat came after the pro-independence leader had spoken about the relationship between the European Union and its citizens.
Puigdemont asked if Brussels is content to have citizens who are "disinterested, passive and distant" or whether it wants to them "to truly participate in European democracy."
"If we do not resolve it, in a few years, other European members will have to have the same debate," said Puigdemont, who warned about the "temptation of Euroscepticism."
Comín accuses Spain of being "authoritarian"
Meanwhile, Puigdemont's former minister who is also in exile in Belgium, Toni Comín, also spoke in the EU chamber, and warned about Spain's "drift to authoritarianism."
Comín, who last week was finally allowed along with Puigdemont to take up his seat as an MEP, said that the "cultural legacy" Francoism is "very much alive" in Spain.
However, Comín was also challenged by a PP party member, when MEP Esteban González Pons responded by insisting that Spain is not an "authoritarian" country.
"Do you think Spain is an authoritarian country when a person who has stolen and is wanted by the courts can openly speak in this parliament?" asked the unionist politician.