Unionist Ciutadans to file motion of no confidence against president
Move unlikely to succeed as only People's Party is open to backing them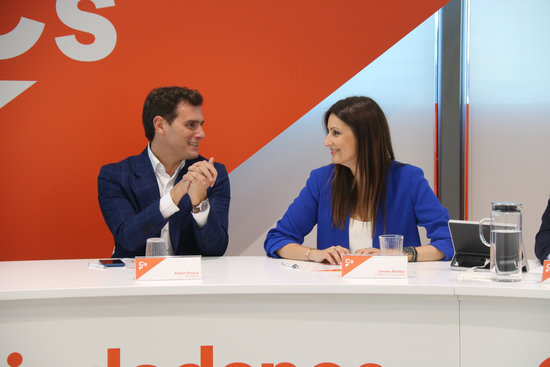 Ciutadans party will file a motion of no confidence against the Catalan president, Quim Torra.
The unionist political force's head in Catalonia, Lorena Roldán, argued on Monday that Torra is "a danger" due to his alleged ties to the pro-independence activists arrested last Monday.
Cadena SER radio station reported that the former president's sister, Anna, held a meeting in 2018 with five of the pro-independence activists sent to preventive detention last week with terrorism charges.
According to the same report, the meeting was "secret" and aimed to "hand over sensitive documents and set up secure communications" between Carles Puigdemont and his successor as Catalan president, Quim Torra, through the former president's sister and the activists.
Anna Puigdemont has already flatly denied the reports.
Yet Ciutadans not only announced that President Torra will face a motion of no confidence, but they will take him to the public prosecutor for his supposed links with the jailed activists.
"This is a motion of no confidence in favor of coexistence," said Roldán.
Yet Quim Torra's post as Catalan president is, so far, not on the line – the only other party open to supporting the motion is the People's Party, but the both parties' MPs fall short of forming a majority.
Even if the other explicitly unionist group in the chamber, the Socialists, agreed on the move, Ciutadans would still need more parties to succeed. All three hold 57 seats, while 68 are needed for a majority.
So far, a Socialist spokesman has called the motion "a gesture," but did not rule out their support for it.
Meanwhile, the four groups in favor of a referendum have already said 'No' to Ciutadans' proposal, ruling out any chances of it succeeding.