Torra requests 'urgent meeting' with Spain's Sánchez over Catalan trial and UN report
Catalan leader expected to raise concerns over rights of jailed colleagues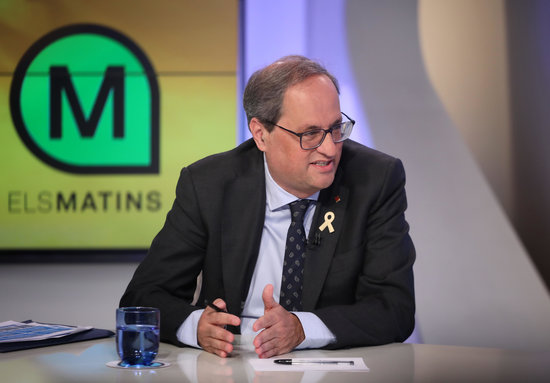 President Quim Torra is to request an "urgent meeting" with acting Spanish president Pedro Sánchez to discuss developments in the closing stages of the Catalan trial and a UN report calling for some of the imprisoned leaders to be released.
Torra is expected to raise concerns with his Madrid counterpart, who is yet to be formally confirmed as president following the recent general election, over accusations in the Supreme Court of a "coup d'état" during the 2017 independence drive.
He will also raise the conclusions of a study by the UN working group on arbitrary detention (UNWGAD) which stated that the detention of three of the defendants in the trial was "arbitrary" and that the October 1 referendum was within Spanish law.
"The repression is not stopping but it has to stop," he said.
Elections overview
In an interview with Catalan broadcaster TV3 on Wednesday morning, the head of the Catalan government insisted that a decision on whether to call a snap election in the autumn will be his alone and not that of his predecessor Carles Puigdemont.
Torra added that Ernest Maragall should be Barcelona mayor as part of a pro-independence coalition with his Junts per Catalunya party after the Esquerra Republicana candidate won the most votes but less than half the seats needed for a majority.
He also said that the overall trend in the Catalan results from the Spanish general election in April and the European and local elections in May, with Esquerra the most popular party, showed that there was a "social majority" in favor of independence.
Speaker calls for end to accusations
Later in the day, the speaker of the Catalan parliament, Roger Torrent, seconded Torra's demands, appealing to the Spanish government to put an end to the prosecutor's accusations against the Catalan leaders.
"After what we saw yesterday in the Supreme Court, with the public prosecutor acting as the far right, I speak directly to president Sánchez: Enough. Stop accusing 80% of Catalans of a coup d'etat," he said.
Regretting that the Spanish government is "ignoring" what "the majority of Catalan society wants," Torrent called on Sánchez to show "bravery and courage in accepting dialogue and providing a democratic solution to the conflict in our country."