'Pro-referendum platform calls on parties to support 'political solution' to Catalan conflict
Som el 80% pressure group urges candidates to include release of "political prisoners" and rejection of "repression" in their electoral programs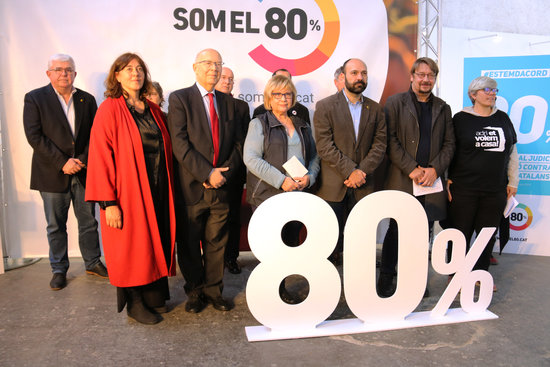 The release of the "political prisoners," rejection of the "repression" and the political use of the courts, and a democratic solution to the Catalan conflict are the three demands that the Som el 80% (We are the 80%) platform made to political parties on Wednesday, ahead of the April 28 Spanish election.
The platform, which was launched in November by the grassroots pro-independence organization Òmnium Cultural, aims to gather broad support for the right to decide and against the "repression" of the independence movement by the Spanish authorities.
Former CatECP party MP Xavier Domènech, Òmnium vice president Marcel Mauri, former PSC party MP in the Spanish Congress Esperança Esteve, and activist Carme Porta all attended the Som el 80% press conference held in Barcelona.
Domènech pointed out that no political solution to the conflict would work without the approval of the Catalan public, and he called on political parties fielding candidates in the election to "listen and adopt what they hear."
As for Mauri, he said the platform's message is addressed to all parties, although especially the PSC Catalan Socialists, and added that Som el 80% has "genuine aspirations" that parties will adopt their three points and include them in their electoral programs.