The party between Catalan independence and Spanish unity
En Comú Podem coalition goes into general election offering itself as best bet for unlocking the stalemate between Catalonia and Spain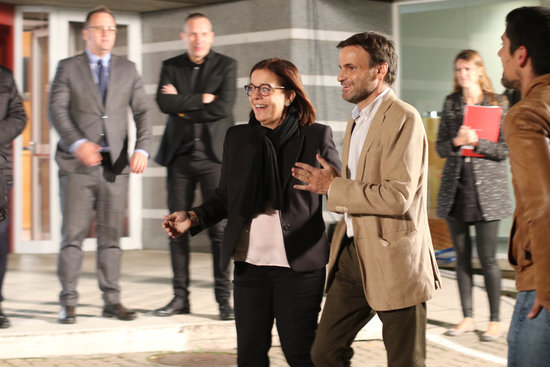 The leftwing En Comú Podem party is the "clearest and most useful" actor in Catalonia for achieving the release of the independence leaders jailed by Spain's Supreme Court.
Or so says the party's main candidate in the November 10 general election, Jaume Asens, who says a poor result for his party would make the release of the prisoners "more difficult."
Asens' thinking is based on the fact that the ECP coalition of leftwing parties has never aligned itself with either Catalonia's pro-independence camp or its unionist parties.
The party is playing heavily on its intermediary position, with Asens kicking off the election campaign by chiding both the Catalan and Spanish governments for their "irresponsibility."
Seven seats in Catalan and Spanish chambers
While ECP won the 2015 and 2016 Catalan elections with 24% of the vote and 12 seats, its share dropped to 14% and 7 seats in the 2019 election, with the party coming third.
Affiliated to Pablo Iglesias' Podemos party as well as the Barcelona en Comú party of Barcelona mayor Ada Colau, ECP currently holds seven seats in the Spanish congress.
That could rise to nine on November 10, says the latest poll by the CIS public research institute, athough a poll by El Periódico newspaper at the weekend put the number at 6 or 7.
From freeing the leaders to a referendum
Last week, Asens detailed the party's aims as freeing the imprisoned leaders and dialogue "without conditions" so that "one day Catalans can decide their own future."
Specifically, ECP wants the Catalan and Spanish executives to sit down for talks to redefine the relationship between Catalonia and Spain that can then be ratified in a referendum.
Yet, for the party, the first step must be the freeing of the jailed leaders, and ECP candidate Aina Vidal recently suggested a pardon for the leaders would be better than an amnesty.
That is ambitious in today's climate, as is spokeswoman Irene Montero's statement that Podemos still hopes to convince Catalans that there is a Spain "that wants to live with them."