Supreme Court confirms 'impartial' yellow ribbons on government building not allowed
Symbol in solidarity with pro-independence leaders prohibited regardless of elections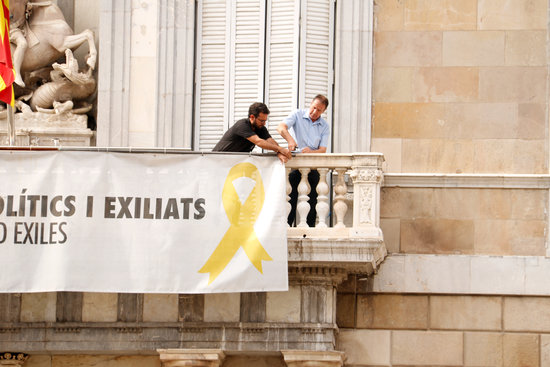 Spain's Supreme Court has confirmed that yellow ribbons and signs calling for the "freedom of political prisoners and exiles" cannot be displayed from the Catalan government headquarters' façade regardless of whether there are upcoming elections or not.
The magistrates have thus ruled in favor of the Impulso Ciudadano unionist civil society group, which had filed a complaint in June 2019 after former Catalan president Quim Torra put the sign up again after the local and European elections in May.
The Catalan High Court had previously ruled in favor of the group, but the Catalan government appealed the decision.
The Supreme Court rejected the appeal on the basis that the "duty of objectivity and neutrality of administrations in relation to the use, even occasional, of unofficial symbols on the outside of buildings."
Magistrates argued that jurisprudence "prohibits the privatization of public spaces, of common use, through their occupation by elements that may represent a partisan option."
The court also specifies that public institutions do not have the right to freedom of expression that individuals do.
In June 2020, the Supreme Court upheld Torra's year-and-a-half disqualification for disobedience for failing to remove yellow ribbons from public buildings in a separate case, thereby ousting him from the government.