Speaker takes judges to court for 'violating rights' of jailed MPs
Charges filed against Spain's Supreme Court Judge Pablo Llarena and three other magistrates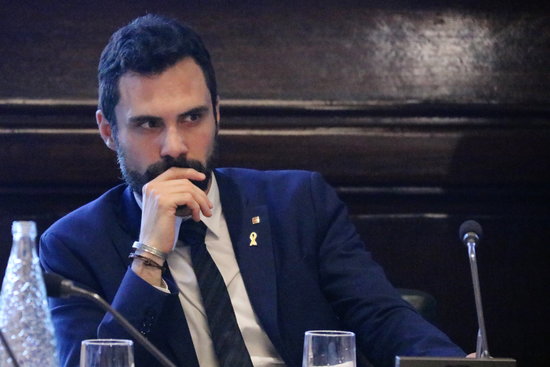 The Catalan parliament speaker Roger Torrent has pressed charges on behalf of the chamber against the Spanish Supreme Court judges for the "violation of rights" of the hemicycle's MPs, incarcerated in the Madrid region.
"In the defense of political and civil rights, we must not give an inch, not one," Torrent proclaimed. The charges have been filed against Judge Pablo Llarena, who has been presiding over the case leveled against pro-independence leaders, and three magistrates more, whose actions, the speaker believes, could be illegal detention, violation of fundamental rights and perversion of justice.
The charges were announced during the award ceremony of the Josep Irla Foundation on Thursday. Torrent explained that the charges are against the court "that keeps MPs, who cannot exercise their rights, as political prisoners, inasmuch limiting the rights of citizens and impeding the exercising of fundamental rights."
In total, three MPs were prevented by Spanish courts from being sworn in as Catalan presidents, including former president Carles Puigdemont, in Germany, as well as Jordi Turull and Jordi Sànchez, in prison. Pro-independence parties held on to a majority in parliament in last December's election.