Spanish president open to constitutional change limiting monarchy's immunity
Pedro Sánchez calls corruption allegations against king emeritus Juan Carlos I "disturbing" and promises "no space for immunity"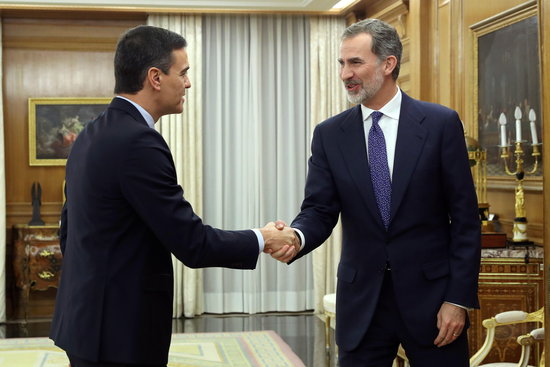 Spanish president Pedro Sánchez says he is open to an amendment of the constitution to limit the legal immunity of public officials, including the king.
As the corruption-ridden legacy of king emeritus Juan Carlos I continues to haunt the Spanish monarchy, calls to strip the crown of its constitutional inviolability have grown louder.
"The Spanish constitution must evolve accordingly with society's demands for exemplarity," said Sánchez in an interview with news outlets eldiario.es and InfoLibre.
"There's no space for impunity in our country," said the head of the left-wing coalition government, calling Juan Carlos' alleged role in a bribery-scheme involving Saudi Arabia "disturbing".
Appointed by Francisco Franco as his political heirs, Juan Carlos was long hailed for contributing to Spain's transition to democracy following the dictator's death in 1975. But the monarch's popularity collapsed as the last chapter of his 40-year reign descended into a spiral of scandals, including an expensive elephant-hunting trip to Botswana.
In 2014, Juan Carlos abdicated the throne in favor of his son, the now King of Spain Felipe VI.
The Supreme Court is investigating Juan Carlos's alleged role in a deal in which a Spanish consortium got a €6.7 billion contract with Saudi Arabia to build a high-speed train line. Reports emerged that the then-king received €88 million from the Saud family, kept the money in an offshore account, and named his son as a beneficiary.
Felipe VI subsequently said he was relinquishing his father's legacy and stripped him of the crown's annual budget.