Spanish judiciary names its Constitutional Court candidates
New members appointed deal ends months of disagreements between conservatives and socialists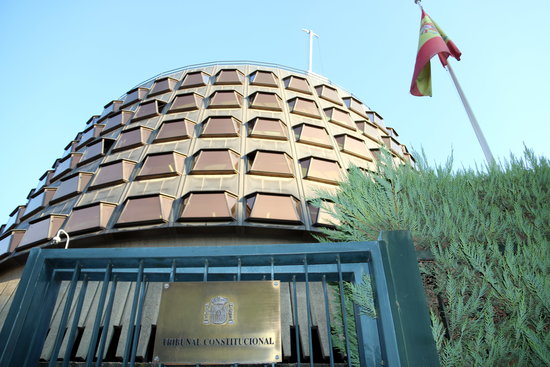 The Spanish General Council of the Judiciary (CGPJ) reached a deal among its members to name the two Constitutional Court judges that have to be appointed by the judiciary. The agreement ends months of disagreements between the conservatives and the socialists.
César Tolosa, conservative, and María Luisa Segoviano, considered socialist, will now become the new members of the highest court in Spain after three-fifths of the CGPJ members voted in favor of them.
In the last meeting, the socialists voted in favor of their candidate José Manuel Bandrés, but on Tuesday showed their support for the two magistrates proposed by the conservative section.
With the CGPJ decision, the Spanish government can appoint its two magistrates to the Constitutional Court. Juan Carlos Campo and Laura Díez will swift the conservative majority to a socialist one in the chamber.
A vote to appoint the two candidates was supposed to take place by September 13, 2022 as the court's magistrates' term had long been over.
According to Spanish legislation, the CGPJ is in charge of appointments, promotions, and transfers of judges. It also inspects how courts work and "staunchly safeguarding the independence of the judiciary," protecting it from the other powers.
To appoint a member of the Constitutional Court, the CGPJ has to name its candidates and two judges named by the Spanish government. Because the executive led by Spanish PM Pedro Sánchez had already chosen its members on November 29, they urged the CGPJ to name theirs.
Because the judiciary did not reach a deal to appoint new judges, the government proposed reforming the judiciary reform law, allowing the executive to name its members without waiting for the CGPJ. The Constitutional Court halted this procedure before MPs were able to vote on it, a first in history.
MPs wanted to reform the legislation via amendments to the reform of the Penal Code, which was, at the time, being debated in Congress to erase the crime of sedition and revamp the one of misuse of public funds.
While the lower chamber did vote on these amendments, despite the magistrate's decision, the Senate did not vote on them.
Government celebrates the news
The Spanish government welcomed the news after the CGPJ named its two candidates.
"Even with the delay and the constant block driven by the People's Party, the CGPJ complied with its obligations, abided by the law and the Constitution," sources from the executive told the Catalan News Agency (ACN).
"The cabinet wishes for the Constitutional Court to recover its prestige, objectivity, and damaged trust after the unusual decisions taken recently," these sources continued before adding that "the People's Party is the only one who still does not comply with the Constitution."