Spanish criminal code reforms come into force: what's next for 2017 referendum leaders
Supreme Court judge alters accusations against exiled leaders, while pardoned politicians could see disqualification modified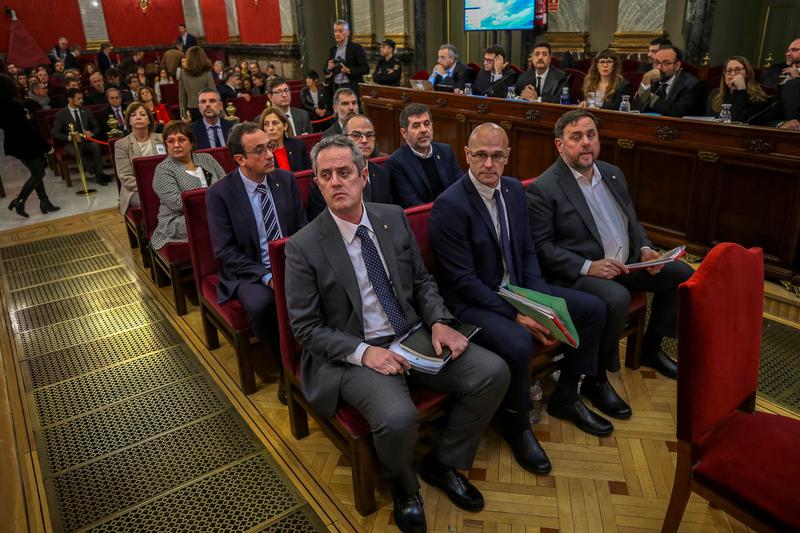 Thursday saw the reformation of the Spanish criminal code come officially into force, with the removal of the crime of sedition and modification of misuse of public funds.
Spanish Supreme Court judge Pablo Llarena wasted little time in sending out fresh indictments for the exiled independence leaders, including former Catalan president Carles Puigdemont, with the accusation of sedition removed.
Meanwhile, the politicians who were imprisoned are also expected to have their sentences reviewed and potentially adjusted to the new laws and penalties. The Supreme Court has given defendants and prosecutors a period of eight days to pronounce after the penal code reform has now come into force.
The independence leaders were convicted of sedition and misuse of public funds, receiving sentences of up to 13 years behind bars and the same length of time disqualified from holding public office. Their pardons meant they could leave prison, but this did not extend to allowing them to run in elections again.
So, what's next for the 2017 independence leaders, now that the Spanish criminal code reform has come into force?
Politicians in exile
Ever since the sentence for the imprisoned leaders was announced in October 2019, the Spanish Supreme Court has sought to extradite the exiled referendum leaders for sedition, dropping the accusation of rebellion.
Judge Pablo Llarena, the magistrate looking after the case of the 2017 independence push, repeatedly attempted to have Carles Puigdemont and others brought to Spain to face sedition charges, but other countries rejected to send the politicians because of a lack of equivalence of sedition in their own criminal codes.
In reforming the law, the Spanish government said that sedition would be replaced by 'aggravated public disorder,' but Llarena ruled out the idea that the events of 2017 constitute this newly expanded law.
This means that Carles Puigdemont, Toni Comín, Clara Ponsatí, Lluís Puig, and Marta Rovira are not expected to be sought for aggravated public disorder.
Yet, on Thursday morning, Llarena updated their indictments, including misuse of public funds for Puigdemont, Comín, and Puig, and disobedience for all five.
Misuse of public funds carries a maximum prison sentence of four years when there is no personal or third-party enrichment, but another interpretation of the crime can see jail terms of 4-12 years be handed out, while disobedience does not carry jail time, only a fine and disqualification from holding public office.
Spanish justice could now seek to extradite the exiled leaders for misuse of public funds and disobedience, which, if complied with, could see Puigdemont, Comín, and Puig arrested and imprisoned while they go on trial.
Ponsatí and Rovira could be brought to Spain but only to testify, after which they could be allowed to walk free as their case continues, as happened with another previously exiled politician, Meritxell Serret, who made a surprise return in March 2021.
However, before any new European arrest warrant is requested, Llarena will wait until the General Court of the European Union decides on the matter of stripping Puigdemont, Comín, and Puig of their parliamentary immunity, as Members of the European Parliament.
Llarena is also waiting on a response from the European Court of Justice regarding some questions he raised about the criteria that Belgium used to reject extraditing Lluís Puig. The court will have their final say on the matter on January 31. In July 2021, the EU advocate general sided with Spain in their attempts to extradite Puig.
Pardoned leaders
The referendum leaders who spent over three years in prison before being pardoned will now be able to have their sentences reviewed.
They were given jail terms of between 9-13 years but were pardoned by the Socialist-led Spanish government, meaning they are no longer behind bars. If their sentence is not officially adapted to the new sentences, a different Spanish government could, in theory, retract the pardons, sending them back to jail.
However, it is expected that they will submit requests to have their sentences reinterpreted in the coming days as the deadline set is next Thursday, and it is likely that their jail terms will be reduced.
Another element of their sentence is the 9-13 years of being barred from holding public office. Given that the penalties for the crimes they were convicted of are now far lesser, they could see their disqualification shortened.
If this happens, they would be able to run in elections a lot sooner than they are currently permitted – between the late 2020s and early 2030s – including, potentially, the Spanish general election scheduled for late 2023.
Pablo Llarena is not a part of the group of magistrates that will review the cases of the pardoned leaders regarding the sentences for misuse of public finds, but in his explanation for modifying the charges against the exiled leaders, he attempted to set out a criterion for the pardoned leaders, arguing that the new sentences should not apply to them.
When misuse of funds was altered in the criminal code, the penalties were lowered to between 1-4 years in prison and disqualification of 2-6 years when funds were misused with no personal or third-party enrichment.
However, Llarena argues that this new version of the misuse of funds law does not apply to the leaders of the independence push, and that they should face the more serious consequences that come with article 432.2 of the penal code: 4-12 years in jail and disqualification of 10-20 years.
According to the penal code, this more serious interpretation of misuse of funds can be applied if there is serious damage or disruption to public service; if the value of the damage caused or the funds misused exceeds €50,000; or if the misused funds or items were of artistic, historical, cultural or scientific value or if the effects of the facts were intended to cause public disorder.