Spanish ambassador threatens Finnish MP over security issues for his support to Catalonia
"If one day Finland has a security problem and needs the solidarity of its EU partners, it could go look for that solidarity to Catalonia," says the diplomat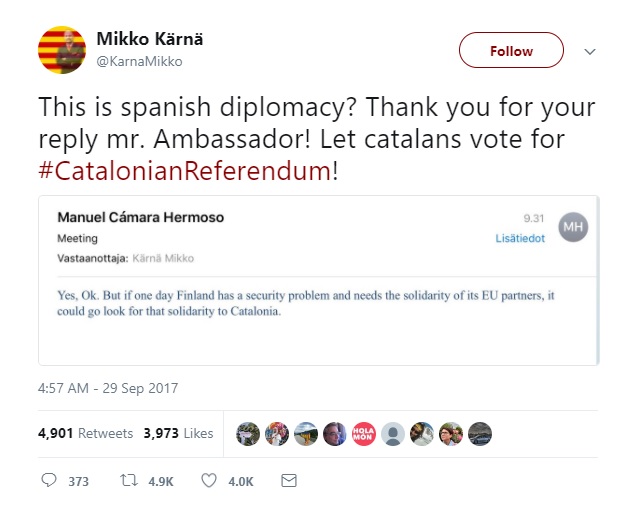 Mikko Kärnä, a Finnish MP for the ruling Centre Party (Suomen Keskuta), today disclosed the threats he received from the Spanish ambassador to Finland, Manuel de la Cámara Hermoso, for his support for the October 1 referendum in Catalonia. "If one day Finland has a security problem and needs the solidarity of its EU partners, it could go look for that solidarity to Catalonia," Cámara wrote Kärnä via email.
"I totally disagree with this kind of political action," Kärnä told ACN, and described the response from the diplomat as "mobster" like and "totally out of place".
De la Cámara sent an institutional email to Kärnä on Thursday at 12:56 pm to arrange a meeting, but did not specify for what purpose. These last days, Kärnä has made his support to the Catalan referendum clear via Twitter, and even changed his profile picture for one of the Catalan flag.