Spain's repeated failures to extradite independence leaders since 2017: a timeline
Intense four years of arrests, imprisonments, and legal tangles but none of the officials who went into exile have been handed over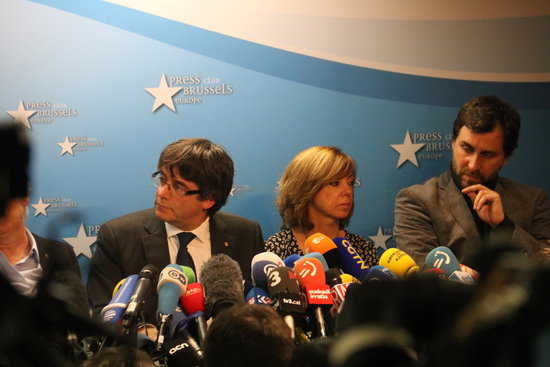 Three days after the declaration of independence in Parliament on October 27, 2017, massive news breaks: half of the Catalan government – who have just been sacked by Madrid – have gone into exile in Belgium, including the deposed president, Carles Puigdemont.
Their first press conference hits the headlines worldwide. "I'm here in order to act with freedom and safety," says the leader of the 2017 Catalan referendum upon arrival.
Spain's Supreme Court issues a European and international arrest warrant straightaway against the five exiles in Brussels: Carles Puigdemont, Toni Comín, Clara Ponsatí, Meritxell Serret, and Lluís Puig – yet, one month later it is withdrawn, fearing that Belgium's courts would partly or completely reject extraditions.
In early 2018, two more pro-independence officials go into exile, this time in Switzerland: Marta Rovira and Anna Gabriel, not former cabinet members, but senior pro-independence MPs in 2017.
In March that year, the European arrest warrants are reactivated for all officials except Gabriel.
Two days later, on March 25, Puigdemont is arrested in Germany, while traveling from Finland to Belgium. He spends 12 days in provisional detention until he is released pending a decision on his extradition.
"Our fight is also for democracy, not only for the right to self-determination. It concerns all European citizens," says the Catalan leader outside Neumünster prison, in Schleswig-Holstein, minutes after being freed.
While Germany deliberates, that spring, Switzerland ignores Spain's request for Rovira and Belgium turns down extradition requests for three of the politicians there – Puig, Serret, and Comín –, citing procedural irregularities.
A few months later, in July, Germany agrees to extradite Puigdemont but only for misuse of funds, not for sedition or rebellion.
The Supreme Court in Spain decides to withdraw all of the arrest warrants to avoid having the former president extradited but without being able to try him for all charges. The ongoing case against Ponsatí, now in Scotland, is also halted.
A third attempt to get four of the leaders extradited begins in October 2019, in the wake of convictions of pro-independence leaders who had stayed in Catalonia – Serret, Gabriel and Rovira are left out.
Yet, the Supreme Court hits a new hurdle in January 2020: after some legal dispute with Spain, Puigdemont, Comín, and Ponsatí are recognized as Members of the European Parliament, thanks to their successful European election results back in May 2019. As MEPs, they are granted immunity and their extradition procedures are suspended.
Meanwhile, Lluís Puig, who is not an MEP, does have to face court in Belgium, but the judiciary ends up refusing his extradition in January 2021 on the grounds that the Supreme Court should not be the court judging him in Spain, and also arguing that his presumption of innocence could be at risk if he handed over.
The Supreme Court asks the European Court of Justice magistrates whether Belgium's criteria is lawful.
In March this year, Meritxell Serret returns to Catalonia from Belgium without being imprisoned, but Puigdemont, Comín, and Ponsatí lose their immunity as MEPs in an EU parliament vote requested by the Spanish judiciary.
They appeal the decision before the European General Court saying the rapporteur in their case was not impartial and there was a breach of confidentiality during MEPs' deliberations – as of October 2021, their immunity is lifted but only provisionally and with Puigdemont's lawyers having requested it to be kept as judges deliberate.
In June, the Council of Europe advises Spain to withdraw the European arrest warrants, but this is ignored.
As a matter of fact, on September 23, the pro-independence politician is arrested in Alghero, on the Italian island of Sardinia, due to the Supreme Court's extradition request. Yet, he is released the day after and the procedure is suspended on October 4, pending a decision from the EU court on the exiles' immunities and on Belgian criteria to reject Puig's extradition.
Not only is this procedure on hold, but all extradition processes are on standby for the same reason, meaning Puigdemont and the other pro-independence figures have been in exile for four years and counting.