Socialists and Barcelona en Comú push for left-wing city council in Barcelona
ERC's candidate aware of "decisive" role after center-right Trias won with 11 councilors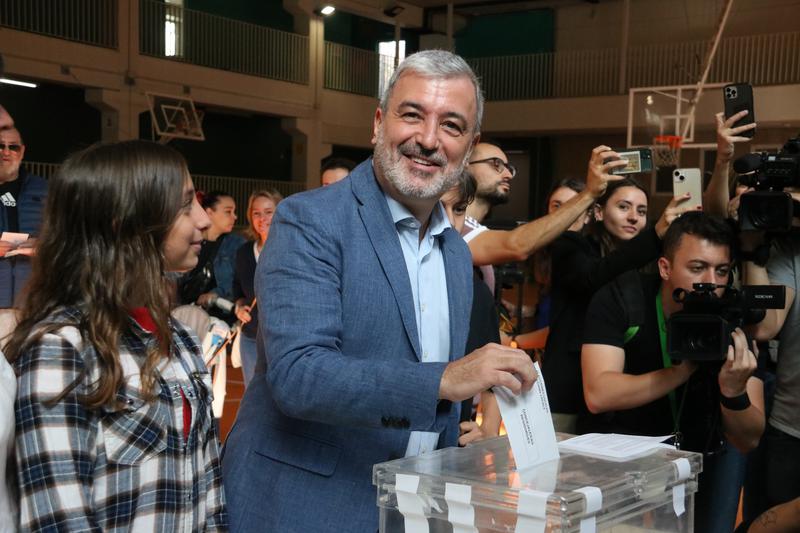 The Socialists, which won in the number of votes in the local elections across Catalonia, will look for "a stable, progressive, and a council thinking first in Barcelona," as the leader of the Catalan Socialists, Salvador Illa, said after the group came second in the capital, with Jaume Collboni getting 10 representatives, just below center-right Trias per Barcelona's candidate Xavier Trias with 11 seats.
"We are happy with the results," Illa said before warning that Barcelona cannot have a stable city council if the party rules with 11 out of the 41 seats, so he announced that Collboni will negotiate "with the idea of having the most stable government as possible."
"Rules are the same for everybody, [in a clear reference to the Catalan president ruling Catalonia with 33 out of 135 representatives in parliament.]"
But Illa already warned that "Barcelona will not be a negotiation tool," as the city "will think in the city."
Anti-austerity: 'an error'
Anti-austerity Barcelona en Comú party, whose leader Ada Colau has been mayor from 2015 until 2023, have said it would be an "error" to not take advantage of having 24 progressive councilors and forming a left-wing local government, as the Socialists (10 seats), BComú (9), and ERC (5) would surpass the needed absolute majority of 21 representatives.
Jordi Martí, of Colau's BComú party, said that there has been a "spectacular" shift to the right in Spain as evidenced by the local election results, and that it was necessary to "think about how we can be most useful for the left in Barcelona and all of Spain."
"We have to give a message from Barcelona," the councilor said, speaking about the "need" to form left-wing alliances with other parties, and not lose the opportunity because of partisan divides. "Barcelona can be the only major city in Spain governed by the left," he added, after Sevilla and Valencia both saw major shifts from left to right on Sunday.
David Cid, an MP in the Catalan parliament with Catalunya en Comú-Podem, said that he felt the low turnout affected their results and helped the growth of the right and far-right. "We wanted to consolidate a project for the country, and we still have the chance of maintaining important councils," he explained on Monday, adding that his party were the fourth most-voted party across Catalonia, obtaining nearly 9% of votes, and highlighting the party's desire to work toward building as many left-wing councils as possible.
In Barcelona, "there is a huge progressive majority of 24 councilors, among whom I will continue working to reach a deal, as well as I will defend for left-wing parties to reach a deal for the Spanish general election," Barcelona en Comú candidate Ada Colau said, during a speech at the Cercle d'Economia lobby on Monday.
ERC: 'decisive'
Meanwhile, pro-independence Esquerra Republicana de Catalunya Barcelona mayor Ernest Maragall, who came fourth with 5 seats, is aware of the "decisive" role the group has, as ERC will look for an "alternative" if their ideas are "coherent and legitimate," he said during an interview with Catalan public broadcaster TV3.
However, he recognized that Trias was the candidate that won, and he should be the one with the initiative to start negotiations.