Six thousand expected to travel to Strasbourg for European Parliament protest
Council for the Republic says two charter planes will be travelling to the French city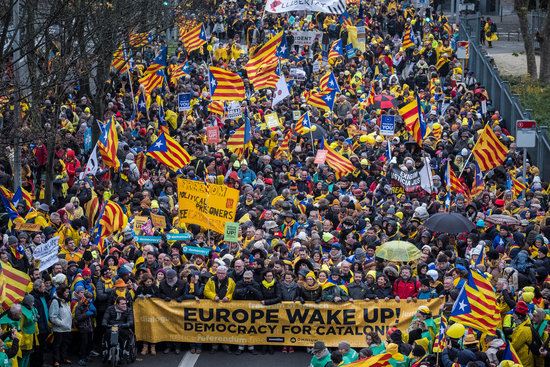 The Council for the Republic estimates that about 6,000 people will travel to Strasbourg, France, in 80 coaches and two charter flights to protest in support of "democracy, exiles, and reprisals" and to demand the freedom of "political prisoners."
Earlier this week the president of the European Parliament announced that he is "not in a position to treat" pro-independence Catalan MEPs-elect as future members of the European Parliament.
Carles Puigdemont, Toni Comín, and Oriol Junqueras were all elected in the recent European elections, but will not be able to take up their seats in the continental-wide parliament.
When there are three days left before the demonstration, the organizing body calls on citizens to make the mobilization in front of the headquarters of the European Parliament "massive."
Coinciding with the first plenary session of the new European Parliament in the French city, the Council urges to physically participate in the demonstration, or through donations if they are unable to attend.
The president of the Catalan government, Quim Torra, will attend the call, accompanied by advisers of the Government as Foreign Minister Alfred Bosch.