Senior Portuguese Socialist MP to meet activist Cuixart in prison
President Quim Torra is currently on an official trip to Portugal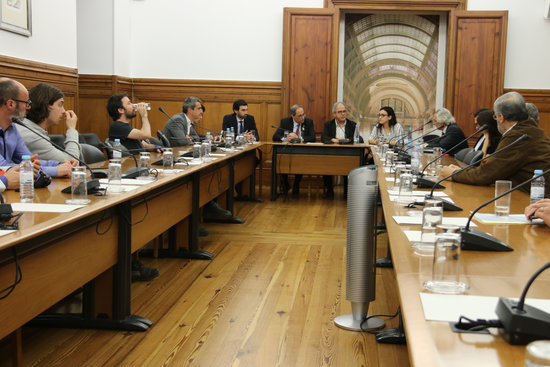 Pedro Bacelar Vasconcelos, president of the Portuguese parliament's constitutional affairs committee, is to visit jailed pro-independence activist Jordi Cuixart in the middle of the Catalan trial, according to sources close to the Catalan presidency.
The Socialist MP met the Catalan president on Thursday alongside a dozen of his parliamentary colleagues, who pushed Portuguese legislature to pass a resolution last year calling for Spain to engage in dialogue and respect the will of the Catalan people.
Portuguese delegation
President Torra also announced that the government will soon reopen its delegation in Portugal.
All Catalan delegations abroad, besides the Brussels base, were shut down when Spain imposed direct rule following the independence referendum, but Lisbon is one of six priority cities part of the government's plan to reopen all its international offices.
"We would only lose out from not being able to express ourselves in the world," said Torra.
"We are planning to reopen our delegations and are currently in the process of selecting our delegate to Portugal, which will allow us to continue projecting the voice of Catalonia."
Official visit
Speaking on an official visit to Lisbon, Torra emphasized the need for Catalonia to "strengthen ties" with the Portuguese. He is due to attend a conference on 'Catalonia and the Right to Self-Determination: An International Perspective' on Friday evening.