Puigdemont 'willing' to go on representing Catalan government, says party member
Former Slovenian foreign affairs minister states he "hopes" for Catalan leader's release after meeting him in prison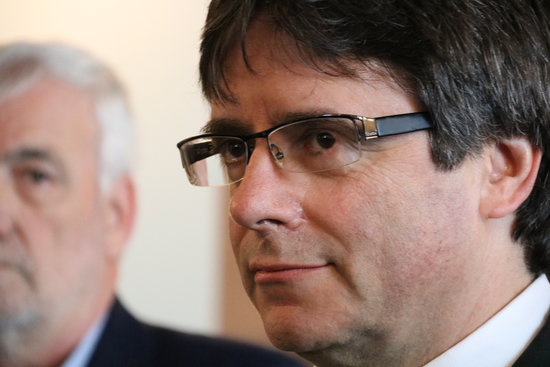 Carles Puigdemont is "willing" to continue representing the Catalan government. That's according the first vice president of the Catalan parliament, Josep Costa, who met the deposed Catalan president in prison, where he is in custody awaiting the verdict on his extradition case. After the meeting, Costa said that Puigdemont is "optimistic" regarding the German court decision on his extradition, as he trusts the German judiciary will rule that his cause is "political."
Costa's visit was not the only one in Neumünster prison. After sitting down with Puigdemont, the former foreign affairs minister of Slovenia, Ivo Vajgl, stated that he "hopes" that Germany does not extradite Puigdemont. "I hope that this proceeding ends with Puigdemont's release," he said. Vajgl, currently in the Liberal Group (ALDE) of the European Parliament, is also one of the spokespersons of the EU-Catalonia Dialogue Platform, made up by MEPs from different countries and political groups. The platform was created to urge European institutions to push for dialogue between Catalonia and Spain in order to find a solution to the current political conflict between both administrations.
What's more, the Slovenian MEP admitted that visiting "a democratically elected president" in prison had upset him, and he expressed his solidarity with the deposed Catalan leader. The former minister noted that the current conflict between Catalonia and Spain is a "political issue" and that it can only be solved by "dialogue." After meeting Puigdemont, Vajgl said that the deposed Catalan leader is "willing" to sit down and negotiate with the Spanish government.
According to the Slovenian MEP, the political situation in Catalonia is not a "domestic affair," since "basic democratic rules have been violated." For Vajgl, it is "unacceptable" that MPs' human rights are violated, referring to jailed Catalan MPs, as well as those who went abroad after being deposed by Madrid. Vajgl went on to criticize the attitude of most European leaders and governments: "They do not understand that lowering democratic standards is a danger to Europe," he warned.
Puigdemont's presidential bid on the table
At the same time, Puigdemont's candidacy for president is still on the table – at least for now. The deposed Catalan president's ticket, Junts per Catalunya, insisted that both Puigdemont and the jailed MP Jordi Sànchez are their presidential candidates, and that for the moment they are not looking for an alternative.