Puigdemont to meet former CUP MP in Geneva
The Catalan leader and Anna Gabriel will tackle far left-wing party's role in the investiture on Monday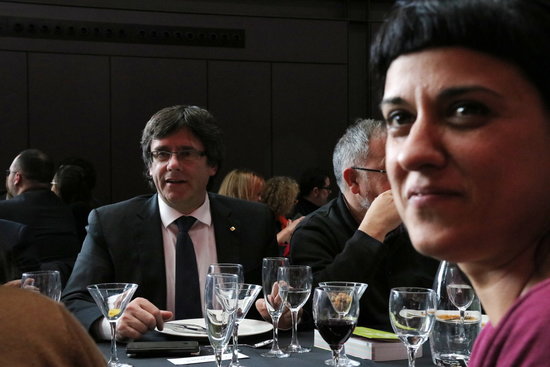 Carles Puigdemont will meet the former CUP MP Anna Gabriel in Geneva on Monday. The leader of the Junts per Catalunya party and Gabriel, who moved to Geneva last month seeking refuge from the Spanish judiciary, will tackle the far left-wing party's role in the investiture. That's what Puigdemont announced in an interview with the Swiss newspaper 'Le Temps'.
"We will also talk about our personal situation and about our willingness to continue defending the legitimacy of our decisions," said the deposed Catalan president in the interview with the Swiss media outlet. In addition, Puigdemont noted that the Catalan parliament should pick a president as soon as possible.
Puigdemont is in the Swiss city from Saturday evening and until at least next Wednesday. On Sunday evening, he will take part in a debate over self-determination, during the International film festival and forum on human rights (FIFDH) in the Swiss francophone city.
It is the second time that Puigdemont crosses a border since he moved to Brussels following the declaration of independence and Spain's imposition of direct rule on Catalonia on October 27, 2017. In January he travelled to Copenhagen, for two days, amid concerns of a possible arrest by the Danish police in the event Spain reissued a European arrest warrant. In the end, he was not arrested despite the Spanish prosecution's attempt.
The Catalan issue lands in UN headquarters
The Catalan independence cause is landing in Geneva. Several debates will be hosted from this Saturday in different sites of the Swiss city, including the United Nations offices. The 37th ordinary session of the Council of Human Rights of the UN will prompt events on self-determination featuring Catalan speakers related to the latest push to the country's independence last autumn, including Carles Puigdemont.