Puigdemont to evaluate security after Catalan conflict at Swiss conference
The former president of Catalonia will speak at prestigious Geneva forum with various invited world leaders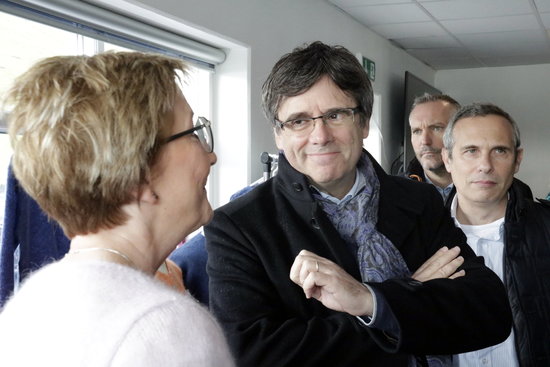 Former Catalan president Carles Puigdemont will participate on Thursday in the international NGO Crans Montana Forum in Geneva, where he will evaluate the "organic and security" impact of the Catalan situation at an EU-level.
Puigdemont is a special guest for one of the plenary sessions of this prestigious Swiss NGO, at their event to address global security from the 24 to the 27 of October. As well as the former president, others invited to the three-day event include Slovenian president Borut Pahor, Armenian president Armen Sarkissan, Congolese PM Bruno Tshibala Nzenzhe and Director-General of the UN at Geneva Michael Møller.
This edition of the Forum, called 'Today's Glocal Security in a World of Rejections & Hardenings,' includes various conferences on different global security challenges, from cybersecurity to migration, from the Arctic to nationalism. Puigdemont is to speak at 'The European Union and the 21st Century's Changes Organic and Security Impact of the Situation in Catalonia' conference. This year will also mark 100 years of the end of the First World War in July 1918, and the Forum will also provide a space to reflect on "regional security" in Europe.
The Crans Montana Forum is an international NGO established in 1986 that works, according to its webpage, "Towards a more Humane World." It closely works with "all major governments, international bodies and organizations such as the UN, UNESCO, the EU, NATO, the Council of Europe, and more. The Forum "encourages international cooperation" and promotes "best practices to ensure a permanent dialogue between those who handle high-level responsibilities around the world."