Puigdemont's party appeals ban on standing in European elections
Pro-independence groups call demonstrations around Catalonia on Friday evening to protest ruling preventing former president from running on May 26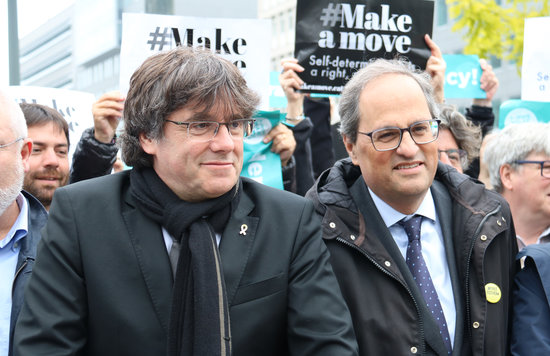 The Junts per Catalunya party (JxCat) is appealing the decision by Spain's Electoral Authority to bar former president Carles Puigdemont, and his former ministers Toni Comín and Clara Ponsatí, from standing in the European elections on May 26.
The pro-independence party, of which Puigdemont is the leader, is to challenge the decision in the Supreme Court on the grounds that it infringes the "basic rights" of the prospective candidates, who went into exile abroad following a declaration of independence in 2017.
Puigdemont's lawyer Gonzalo Boye, who is temporarily standing in for his client as the main JxCat candidate while the matter is resolved, says that if necessary the party will take the issue to the European Court of Human Rights in Strasbourg.
"The Electoral Authority is making the legality up and its ruling is arbitrary, and it goes against both Spanish and European law, and is against the international conventions to which Spain is subscribed," said Boye.
Demonstrations called for Friday evening
JxCat, along with fellow pro-independence parties, ERC and CUP, and the Catalan National Assembly (ANC), Òmnium, and the Committees for the Defense of the Republic (CDR), have called demonstrations around Catalonia for Friday to protest the authority's ruling.
Under the slogan 'Pels drets civils i polítics: Prou manipulació electoral' (For civil and political rights: Enough electoral manipulation), the protests in Barcelona, Tarragona and Girona outside Spanish government buildings will begin at 7pm.
A demonstration in the city of Lleida is set to begin at 9pm in the Ricard Vinyes square, while president Quim Torra will lead a rally at 7.30pm in the main square in Penelles, in Lleida's La Noguera region.
Brussels protest defends right of "exiles"
On Thursday, Torra, Puigdemont, Comín and Ponsatí protested together outside the European Commission building in Brussels to defend the rights of the "exiles" to stand in the upcoming European elections.
The event organized by the Brussels branch of the ANC was also attended by the organization's head, Elisenda Paluzie, as well as the Catalan government's delegate to the European Union, Meritxell Serret.