Puigdemont quits PDeCAT, certifying divorce with his new party JxCat
Dozens of officials have moved from center-right bloc to former president's group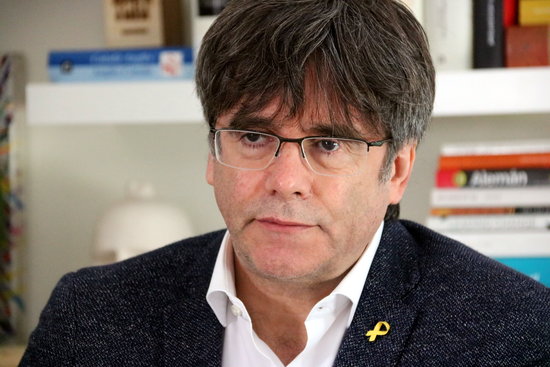 Former Catalan president Carles Puigdemont has left the party he was a member of when he was appointed to Catalonia's top post in 2016, PDeCAT.
He announced the move via Twitter on Monday: "I have just informed David Bonvehí, president of PDeCAT, of my intention of giving up my membership."
"I will continue working, now as president of Junts per Catalunya, to have a cordial relationship between both political groups."
This is the final chapter so far of a relationship that started to change in autumn 2017 when Puigdemont succeeded in running in the Catalan election at the helm of Junts per Catalunya. PDeCAT partially owned the brand, but Puigdemont's closest allies began to push for the integration of the old party into a new one led by the exiled leader.
Despite long negotiations, the center-right bloc, heirs of the defunct CDC which ruled Catalonia for 23 years, both sides were unable to reach a deal and Puigdemont announced the creation of his new party, Junts per Catalunya, in early July this year.
While that was the tipping point, no one ruled out that both sides could merge, or at least run in the upcoming election as a coalition.
Fight for Junts per Catalunya brand
Yet, some days later, a legal move by Puigdemont's allies saw the Junts per Catalunya brand being stripped from PDeCAT to fall in the hands of the former president.
This led Bonvehí's force to take the case to courts, which enraged some of its officials, who were still members of PDeCAT while also having joined the former president's platform.
Loss of 800 members, including several ministers
Dozens of officials have left the older party in the past few days, including senators, councilors, and four current Catalan ministers: Meritxell Budó, Miquel Buch, Jordi Puigneró, and Damià Calvet.
Puigdemont himself joined the breakaway on Monday, certifying the divorce between the two groups.
On Monday afternoon, the three high profile imprisoned PDeCAT members, Jordi Turull, Josep Rull and Joaquim Forn, also quitted the party to focus solely on Puigdemont's new political force, thereby following the former president's footsteps.
PDeCAT admitted on Monday that it had lost 800 of its members in the past few days, 7% of the total.
Its president, David Bonvehí, already commented on Puigdemont's move on Twitter: "My recognition and respect to colleague and friend, President Carles Puigdemont."
"We will continue working, each of us from our own position, to achieve Catalonia's independence. We are in touch."
Elsewhere, leader of the Catalan Socialists, Miquel Iceta, described the current government in power as "rotten," citing divisions between not only between the PDeCAT-JxCat groups, but also between coalition partners Esquerra Republicana and Junts per Catalunya.
"We are facing a divided government whose partners are fighting with each other and one of which (Junts per Catalunya) is splitting. This government is rotting," he said.