Protests as king visits Catalan monastery amid former monarch corruption scandal
Police charge at republican, pro-independence demonstrators while Felipe meets Poblet monks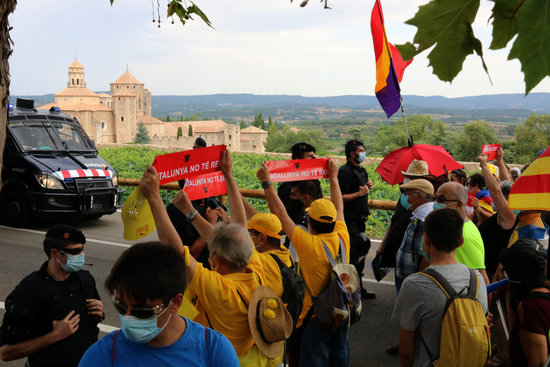 Hundreds of republican and pro-independence demonstrators protested against the visit of King Felipe to Catalonia's iconic Poblet monastery on Monday morning.
The march began in L'Espluga de Francolí and ended around one kilometer from the religious site in western Catalonia after the police cordoned the area off.
The banner heading the march read 'Catalonia has no king.'
Some clashes between the protesters and law enforcement were seen, with riot officers charging at demonstrators.
Yet the disturbances took place at some distance from the actual site where the monarch was visiting the monks living in Poblet.
Felipe had intended to also visit Barcelona, but partially canceled his plans, citing difficulties due to the new Covid-19 outbreaks.
Poblet monastery
The Poblet monastery, part of the Order of Cistercians, has been a UNESCO World Heritage Site since 1991.
It is one of the largest inhabited monasteries in Europe and the burial place of some of the medieval kings of Aragon, a federation that included Catalonia with its own institutions.
Juan Carlos' alleged corruption scandal
Felipe's visit coincides with the growing concerns about his father Juan Carlos' alleged irregularities for decades when monarch – in the past few weeks, new details of his alleged corruption are being published almost daily.
The Supreme Court is investigating Juan Carlos's alleged role in a deal in which a Spanish consortium got a €6.7 billion contract with Saudi Arabia to build a high-speed train line. Reports emerged in March that the then-king received €100 million from the Saud family, kept the money in an offshore account, and named his son as a beneficiary.
Felipe VI subsequently said he was relinquishing his father's legacy and stripped him of the crown's annual budget.
The Socialists, the People's Party and the far right prevented an investigation into the former king in June, but the Spanish president, Pedro Sánchez, said he was open to a constitutional change limiting the monarchy's immunity.
Catalan president considers lawsuit
On Sunday, the Catalan president, Quim Torra, ordered his defense to consider a lawsuit against the former monarch for corruption. His former lover, Corinna zu Sayn-Wittgenstein could be included in the lawsuit.
"Corruption has to be fought regardless of who is taking part," said Torra.
King's abdication 'necessary'
On Tuesday, only one day after the visit, the Catalan parliament approved the conclusions of the investigation committee on the 2017-2018 direct rule, in which lawmakers said that the abdication of King Felipe is "necessary"
MPs also rejected actions of the king, Pedro Sánchez, and his predecessor as Spanish president, Mariano Rajoy.