Protesters fill central Barcelona square marking 6 months of jail for Catalan leaders
Demonstrators call for release of deposed vice-president Oriol Junqueras, and Joaquim Forn, both in jail for half a year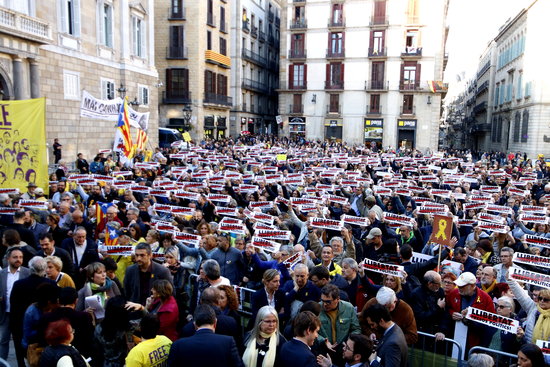 Protesters have filled a central Barcelona square to mark six months in pretrial jail for the pro-independence leaders Oriol Junqueras and Joaquim Forn. Both were high-ranking members of the Catalan government before it was sacked by Madrid following a declaration of independence in October last year. Oriol Junqueras was the country's vice-president, while Forn was home affairs minister, before Spain stripped Catalonia of its self-rule using the application of Article 155 of the Spanish constitution to do so. Both have now been in prison awaiting trial for exactly half a year.
Among those present to mark the occasion, were parliament speaker Roger Torrent, of Esquerra Republicana, the same party as the dismissed vice-president. Also at the demonstration were representatives of grassroots organizations Omnium Cultural and the Catalan National Assembly (ANC). Both entities have been behind some of the biggest pro-independence marches in recent years, most notably on the annual Catalan national day demonstrations which often see hundreds of thousands of supporters fill the streets of Barcelona.
At the protest calling for the release of jailed leaders, people held cartels calling for "freedom for political prisoners," as well as photos of those behind bars. Pro-independence flags could also be seen being waved as people filled Barcelona's Plaça Sant Jaume, where both the city council and government headquartrers are based.
A letter from prison
During the event, relatives and party colleagues read a letter written by Junqueras and Forn from the Estremera prison where they are being held, giving thanks and support. Both leaders asked Catalans to continue denouncing the ongoing judicial and political situation. "We must continue resisting. If you persist, we resist," they wrote, adding that this is what "must be done now."
6 months behind bars
Junqueras and Forn are accused of rebellion and misuse of public funds, which can carry prison sentences of up to 30 years. Both are being held in a prison in the Madrid region, over 600km away from their homes.
Last week, Junqueras, one of the most prominent figures in the independence bid, requested a transfer to a prison in Catalonia. His defence team argues that keeping him so far away from his family undermines his rights, as well as those of his two children.
A previous transfer request was turned down by Pablo Llarena, the Spanish Supreme Court judge in charge of the case. Other jailed Catalan leaders include grassroots leader Jordi Cuixart, and twice presidential candidate Jordi Sànchez.