Prosecutor won't investigate Catalan vice-president for now
Pere Aragonès was secretary of economy at time of independence referendum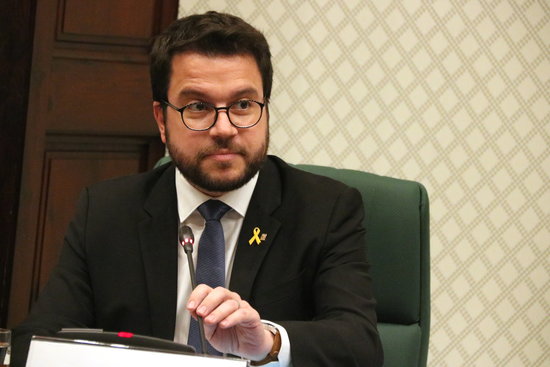 The public prosecutor has found no evidence to justify investigating Catalan vice president Pere Aragonès for the crime of disobedience—at least for the moment.
With his predecessor and Esquerra Republicana (ERC) party leader Oriol Junqueras jailed over rebellion charges, Aragonès has become one of the most prominent leaders of the independence movement.
Should Aragonès have been accused of disobedience, he would have become the only member of the Catalan government currently in office to be prosecuted for criminal charges.
However, the prosecutor has urged Spain's High Court in Catalonia (TSJC) to investigate Josep Maria Jové, an MP and Junqueras' right-hand man when he was in charge of the finance ministry.
On September 20, 2017, Jové and other top officials in Junqueras' ministry were arrested in a major police operation to halt preparations for the referendum on independence, deemed illegal by Spain. Although he was the secretary of economy at the time, Aragonès was not detained.
In total, nine pro-independence leaders are in prison awaiting trial for organizing last October's referendum and subsequent declaration of independence. They all face charges of violent rebellion.
Former president Carles Puigdemont and six other politicians left Spain to avoid being prosecuted, and are currently seeking refuge in other European countries.