Prosecutor overturns ban on Puigdemont standing in European election
Madrid attorney general says electoral authority ruling infringes "basic right" of former president and ministers to run for seats in Brussels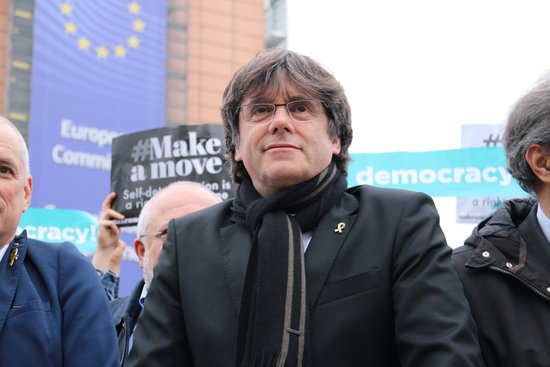 Madrid's attorney general has overruled the decision by the electoral authority to bar former president Carles Puigdemont and his former ministers, Antoni Comín and Clara Ponsatí, from standing in the European elections on May 26.
The attorney general ruled in favor of the appeal against the decision that was presented by the Lliures per Europa (Junts) candidacy, under which Puigdemont and his former ministers aimed to run for seats in the European Parliament.
In a statement, the attorney general called on the court of appeal to revoke the ruling by the electoral authority excluding Puigdemont and his former ministers as candidates, considering it to infringe their "basic right" to stand in an election.
A majority in the electoral authority voted for the bar last week, calling Puigdemont's intention to stand a "mockery" of the law, and basing the decision on the grounds that the former president and ministers are living abroad and wanted by the Spanish judiciary.
Puigdemont, Comín and Ponsatí protested the authority's decision outside the European Commission building in Brussels on Thursday, alongside president Torra and the head of the Catalan National Assembly (ANC), Elisenda Paluzie.
The ANC, along with pro-independence ERC and CUP political parties as well as Òmnium and the Committees for the Defense of the Republic, called for protests around Catalonia for Friday evening under the slogan 'Pels drets civils i polítics: Prou manipulació electoral' (For civil and political rights: Enough electoral manipulation).