Pro-independence parties vote down reform of Spain's 'gag' law
Esquerra Republicana and Junts claim proposal did not ban 'hot returns' or rubber bullets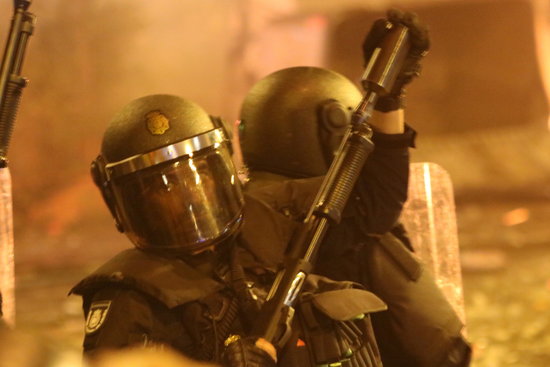 Spain's 'gag' or public safety law will not be modified during the current Spanish legislature as Catalan pro-independence parties voted down the reform on Tuesday.
Esquerra Republicana (ERC) and Junts per Catalunya, as well as the Basque Country's EH Bildu party, rejected the proposal made by the Socialists and anti-austerity Podemos, the parties forming the current governing coalition in Madrid.
Politicians claimed the modified law would not eliminate the "more harmful" aspects of the law in force since the conservative government approved it in 2015, such as what are known as 'hot returns' - the immediate deportation of people crossing the Spain-Morocco border - and police being able to use rubber bullets. The reform would also not have softened the crimes of disobedience and not respecting law enforcement agents.
Socialist MP David Serrada criticized the parties that voted against a text they "worked hard on" to "improve citizen's freedom and security." He believes that it is all based on "electoral tactics" as both local and general elections will take place in 2023.
Something shared by Isabel Rodríguez, the Spanish government spokesperson.
"Parties including Esquerra Republicana and Bildu have prevented us from reforming Spain's 'gag' law. This means that today the conservative People's Party's law is still in effect," she said during a press conference after the weekly cabinet meeting.
Last attempt
ERC and EH Bildu had registered four different amendments as a "last attempt to reach an agreement to ensure the reform is an actual derogation of the most harmful aspects affecting fundamental rights introduced by the Spanish conservative party in 2015."
Junts supported the proposals. However, the Socialist party rejected them. Because of this, the three forces voted against changing the 'gag' law.
"We said from day one the different aspects that had to be gone, and none of them were taken into account," ERC spokesperson in Congress Gabriel Rufian said before announcing that they would not support revamping the law.
During his speech, Rufian showed a picture of a police officer kicking a migrant at Spain's African border, and a second one of a Catalan resident, Ester Quintana, who lost an eye to a rubber bullet during a general strike in 2012.
What is the 'gag' law?
The Public Safety Law, commonly known as the 'gag' law was passed in 2015 by Spain's conservative People's Party when they had an absolute majority in Spain's congress.
It grants the police more extensive powers, such as handing out fines for protesting in front of Congress or for taking and sharing photos of police officers.
Catalan News podcast
Listen to our podcast published on February 20, 2021, talking about the riots in favor of rapper Pablo Hasel's freedom and against the Public Safety Law.