Pro-independence parties to vote differently in Sánchez presidential bid
Junts per Catalunya to vote No, Esquerra to abstain, but success for Socialist leader looks very uncertain shortly before vote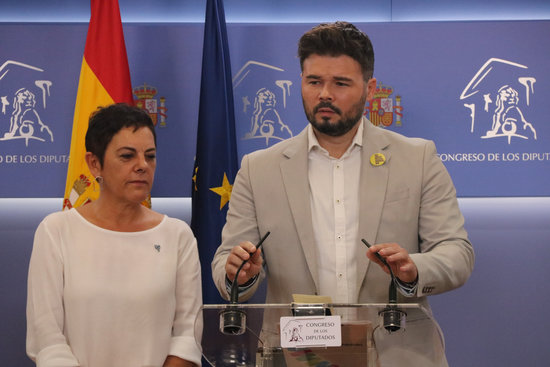 The two pro-independence parties governing Catalonia will vote differently in Pedro Sánchez's bid to become Spanish president again on Thursday in the Spanish congress.
President Quim Torra's party, Junts per Catalunya, will vote against the Socialist leader, while Esquerra will abstain.
This abstention would enable Sánchez to stay in power for a second term should the Socialists reach an eleventh-hour deal with Unidas Podemos, which looked unlikely with less than four hours to go before the vote.
Sánchez failed in his first attempt on Tuesday, as he only gathered 124 votes in favor, while 170 MPs voted against.
Two days later, the Spanish congress will hold a second round of voting, in which the Socialists will not only need Esquerra's abstention, but also the backing of anti-austerity Unidas Podemos – the parties are in coalition talks, but so far without success.